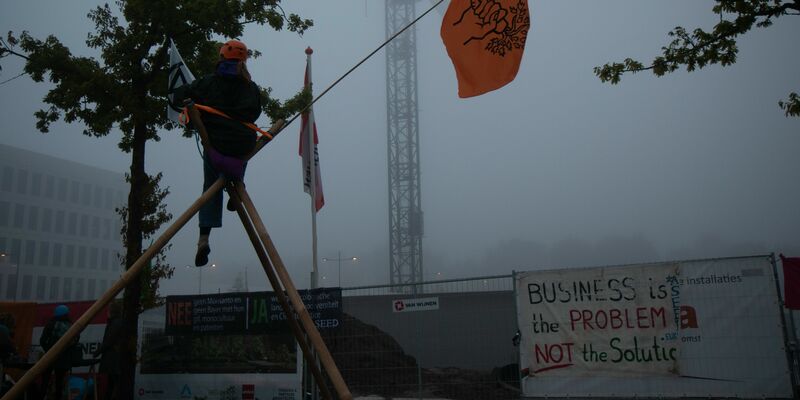 The University

21/05/2021
Wageningen students block campus construction site
On Thursday morning, a construction site for a new branch of the multinational Upfield on the campus of Wageningen University was blocked by protesting students. They fear that Upfield's presence at Wageningen will pose a risk to the university's independent teaching and research. TU/e student Bram Boer, who is a member of the Eindhoven branch of University Rebellion, took part in the occupation. "The police used excessive force to end the protest. I was arrested and detained for more than six hours."
The activists managed to gain access to the site by slipping through the construction fences. Three of the students then chained themselves to the gate, university magazine Resource reports. On Instagram Stories, images of banners have appeared with texts like 'Welcome to the destruction site' along with pictures of the famous Monopoly Man. Some protesters scaled a tall crane on the site where they set off smoke flares. "I was sitting on a site hut together with a few others," Bram Boer says.
The blockade is a joint initiative by Wageningen students and the protest groups Extinction Rebellion, University Rebellion and XR Landbouw. After Friesland Campina and Unilever, Upfield will be the third large company to have its own building on the Wageningen campus, the protestors write in a press release. They fear that these parties will exert their influence on education and research, and they demand that the university puts an end to the cooperation.
Challenges
But the presence of these companies at Wageningen is part of the university's strategic plan, says spokesperson Annet Blanken. "We face enormous societal challenges worldwide, and to meet those challenges it is more important than ever that we work together with a wide variety of parties."
She is "highly surprised" by the protest. "There's a meeting scheduled to talk about cooperation with the business community, to which we've invited all kinds of parties – including Extinction Rebellion, who have already confirmed their attendance."
Upfield is the company behind margarine brands such as Becel and Blue Band, and was sold a few years ago by Unilever to a large American investment firm.
Upset
One day later, Bram Boer is still upset by the events. "The police used excessive force to end the protest. Police officers were beating protesters and violently pulling them out of the lock-ons with which they had chained themselves. And this while we were protesting peacefully, we just didn't actively cooperate when we were ordered to end the occupation."
Boer was detained for more than six hours after his arrest, and a few of his colleagues are still in custody the next day. Nevertheless, he still fully supports the protest in Wageningen. "Wageningen University is considered the world's leading university in the field of agriculture. The entanglement between university and industry leads to a focus on conventional agriculture in the search for solutions to the ecological and climate crisis. This will be at the expense of alternative options."
Eindhoven
University Rebellion Eindhoven's most recent protest action involved a so-called chalk walk to protest against fossil-fuel investing pension fund ABP. Pavement chalk is child's play compared to an occupation, but Boer also issued the following warning back in November addressed to the executive board: "If you do not act, we will make you act." Can Eindhoven except occupations similar to the one that took place in Wageningen?
Boer laughs: "We don't have enough people in University Rebellion's Eindhoven branch for an occupation – couldn't Cursor make an appeal?" In any event, a new protest action, on which Boer can't comment at this point, is scheduled to take place soon. "The board is ignoring our requests at the moment. And now that more people are allowed on campus again, it makes more sense to organize protests here."
Boer's determination isn't broken by his experience in Wageningen. "I see it as a moral duty to the people around the world who are already suffering from the consequences of the climate crisis as we speak. As long as TU/e continues to approach the climate crisis as a challenge that can be solved with some techno optimism, we will continue to give force to our demands."