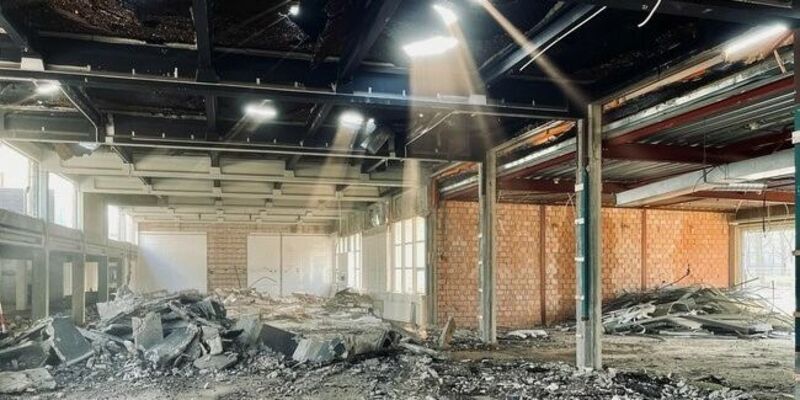 Campus

,

Research

31/05/2021
Prefab concrete from Paviljoen building reused
The demolition of the Paviljoen building on the TU/e campus is part of a European study into circular concrete in which the prefab concrete beams and columns from this building will be reused. During this process, TU/e researchers will look into ways to improve demolition, disassembly and reuse. In doing so, they want to optimize the design process of new buildings with reuse in mind in order to build more sustainably.
The Paviljoen is one of four demonstration projects of the international Horizon 2020 program 'ReCreate'. The European Commission has allocated 12.5 million euros to the overall project, of which 2.3 million will go to TU/e for the appointment of three PhD researchers and a project manager and the realization of the Dutch demonstration project. The other projects are in Finland, Sweden and Germany. There, specific attention is being paid to quality control, logistics, climate impact, marketing and knowledge transfer.
Environmental impact
Rijk Blok, project leader of the Dutch partners and researcher at TU Eindhoven: "Cement production releases a lot of CO2. Additionally, the large amount of sand and gravel needed has a significant environmental impact. Concrete is therefore an important material to take a closer look at if we want to make construction more sustainable."
TU/e researcher Patrick Teuffel, co-project leader of the Dutch project, continues: "You want to reuse the materials at the highest possible level, so don't grind them into granules first. If we want to use fewer fossil materials, we really need to start looking at improving reuse."
Quality assurance
But that's not so easy. Older buildings don't have quality marks to tell you the grade of the concrete. Rebar which was the norm 40 years ago might not pass the latest requirements today.
Furthermore, elements can be damaged during disassembly, which could further reduce their quality. It goes without saying that the municipality wants to have a formal record that it meets all requirements. Blok: "Structural safety is and remains an essential requirement, of course."
And even if the quality is perfect, a concrete column that supported one floor in the old building would not be able to support more floors in the new building. Blok: "During the design process of a new building in particular, you have to take into account the elements that are available for reuse."
Determining preconditions
Then there are the higher costs you incur for careful disassembly and storage, for example, which means that the cost-benefit analysis is not necessarily favorable. Teuffel: "Quite simply, new cement is cheaper right now. But it may not be in the future, such as if a climate tax or higher CO2 tax is levied on concrete." Yet the researchers remain optimistic. Blok: "Problems are there to be overcome. If we want to become more sustainable, we have to investigate the preconditions now."