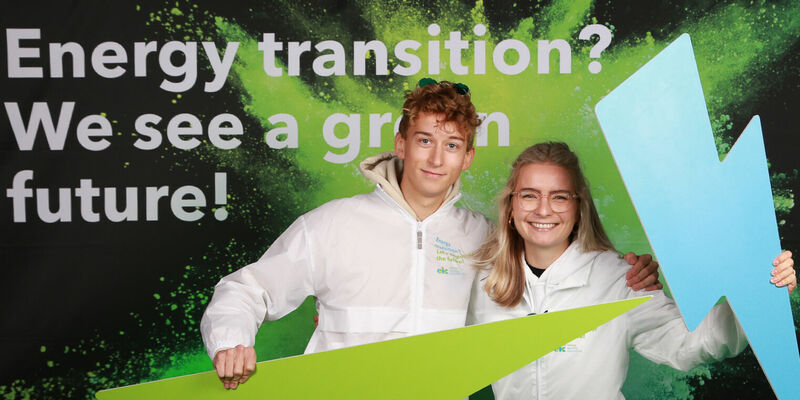 Green glasses for everyone
The autumn is in the air this Wednesday, but people are handing out sunglasses in the Markthal. The lenses are green, because the Energy Learning Community wants students to view their professional future from a green perspective. Students Charlot Felderhof and Ivo van der Peet participate in this new initiative: "Because we need everyone – students from TU/e as well as students from higher and secondary vocational education – to realize the energy transition."
The Energy Learning Community (ELC) was launched at TU/e, Avans University of Applied Sciences and the Summa College last week. The goal is to encourage students to pursue a career in sustainable energy through projects, student teams and meetings with companies and fellow students.
ELC is financed with funds from OPZuid, a European subsidy program for the three southern provinces. The project is coordinated by The Gate, and each participating institution has two contact persons for their fellow students. The contact persons at TU/e are Charlot Felderhof (23, Innovation Management) and Ivo van der Peet (22, Mechanical Engineering) (see photo).
Felderhof and Van der Peet are busy setting up a photobooth in the Markthal at MetaForum. Students can take a picture there, wearing a small, green John Lennon pair of glasses. 'Energy transition? We see a green future!" it says on the backdrop.
Hands-on
And the future is green for Felderhof and Van der Peet as well. Felderhof worked on solar camper SHOW as a member of Solar Team Eindhoven, and Van der Peet is a member of student team SyFly. "And I'm busy setting up a new student team, which will focus on hydrogen as an energy carrier."
ELC's main goal is to bring the community students from institutions of higher and secondary vocational education and higher education together. Because it will take an all-out effort to achieve the energy transition, and it requires people from various professional backgrounds. Felderhof and Van der Peet are enthusiastic about the plan to have students from Summa, Avans and TU/e collaborate in student teams.
Felderhof gained experience with this kind of cross-fertilization through his work at the Solar Team: "We had SHOW's infotainment system installed by Fontys students. It was remarkable how much more hands-on they were."
TU/e students tend to remain seated in front of their computers for a long time, whereas higher and secondary vocational education students prefer to go into the workplace to simply experience whether something works or not, Van der Peet learned from experience. "And you need both."
Vegetarian
What was it that made both these ELC spokespersons enthusiastic about sustainability? "It started at TU/e," they say in unison. Inspiring colleagues, student teams, housemates who started to eat vegetarian meals: it all played a role.
Van der Peet: "When I was in high school, I wasn't aware of the seriousness of the climate problem, and I wasn't really focused on the future in general at that time. That changed when I went to the university. I can see the awareness growing around me: at first I only knew a few vegetarians, but now I know many."
They both want to work in the sustainable energy sector after they graduate. "And I'm not just saying that because I'm representing ELC," Felderhof says laughing. "I would prefer to work at the interface where consumers, industry and politics meet, because they all pass the responsibility for the energy transition on to each other."
Van der Peet wants to work in the hydrogen sector. "I'm convinced that we need hydrogen as an energy carrier to make the transition to a carbon-neutral world. I want to contribute to that."