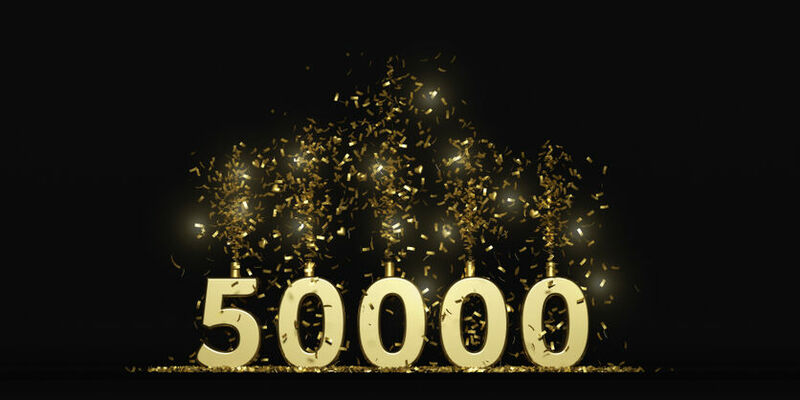 The University

18/10/2021
TU/e passed the milestone of the 50.000th diploma
When Ilgaz Baykal earned her bachelor's degree last July, she had no idea that hers was the 50,000th diploma to be awarded at TU/e. The Industrial Engineering student was put in the limelight last Saturday. Meanwhile, Cursor looked up the statistics about Baykal and her 49,999 predecessors: how many of them are women or internationals? Which department produced the most graduates? And: is there any room left on Alumni Avenue for their signatures?
Many students have followed in Ilgaz Baykal's footsteps since last summer: the current number of diplomas awarded by TU/e is 51,481 (these and the following figures were obtained from TU/e BI-portal and date from October 15). This number includes all bachelor's and master's diplomas and all degree certificates prior to the introduction of the BaMa-model.
19.43 percent of graduates are women (10,005 diplomas) and 9.11 percent are internationals (4688 diplomas). Industrial Engineering & Innovation Sciences produced the highest number of graduates: 10,755 diplomas (20.89%), followed by Built Environment with 9938 diplomas (19.3%).
Not very surprisingly, the youngest departments awarded the lowest number of diplomas: 2266 at Industrial Design (4.40%) and 2794 at Biomedical Engineering (5.43%). The current number of master's diplomas at Eindhoven School of Education is 264, which is 0.51 percent of the total number of diplomas at TU/e.
As the number of students grew throughout the years, the university started to award diplomas at ever increasing frequencies. TU/e, founded in 1956, awarded its 10,000th diploma after 39 years: in October 1995. However, the 20,000th diploma followed less than twelve years later, in April 2007. The next milestone was achieved six years later (March 2013): 30,000 diplomas. And four and a half years after that (September 2017), TU/e awarded its 40,000th diploma. After that, the number started to climb at a slower rate: the 50,000th diploma was awarded in July 2021: 3 years and ten months later. (Source: ESA).
Alumni Avenue
Ever since the university celebrated its previous lustrum in 2016, TU/e alumni have the opportunity to engrave their names in the glass of Alumni Avenue, the walkway between MetaForum and Atlas.
"The departments invite their graduates for this ceremony. In addition, the university organizes special engraving moments for alumni who graduated before 2016. The last opportunity to do so was last Wednesday, prior to the special lustrum event for alumni," Yongwei van Bussel-Liu of Alumni relations says.
Engraving is popular - already about 3700 autographs were signed - and this means that it has become increasingly difficult for graduates to find a nice spot for their names lately. Van Bussel-Liu: "That is why we went to Alumni Avenue at the start of this week to widen the margins at the top and the bottom of the part of the glass that we can use. This way, we created enough space for signatures over the coming years."
However, it's not possible to use the glass from floor to ceiling, she says: "Certain parts are difficult to reach during the engraving process. That is why we are consulting with Real Estate about a structural solution in the long term."
Ilgaz Baykal was awarded the 50,000th diploma
Ilgaz Baykal (22) was completely surprised when she heard that she had been awarded the 50,000th diploma at TU/e. "For a minute, I thought that someone was playing a joke on me." The Turkish student earned her bachelor's diploma at the department of Industrial Design on 30 July of this year. "I'm the first graduate from the new, English-taught bachelor's program." By now, she started with the master's program Innovation Management at the same department.
"What I like here at TU/e – apart from student life in Eindhoven and the excellent education system – is the exchange between different expertise. One reason is because it's easy to get to know students from other disciplines, since all programs are located on one large campus, but also because of interdisciplinary projects. For example, I was able to follow my honors track at Team Layer. I like to be taken out of my comfort zone by others."
Baykal wants to remain in Eindhoven after she completes her studies. "I would prefer to work at one of the start-ups on the High Tech Campus. I enjoy the efficiency and team-orientated working culture in the Netherlands." And she has also gotten used to the weather in our small, wet country by now, "but cycling through the snow with grocery bags was a bit of a challenge."