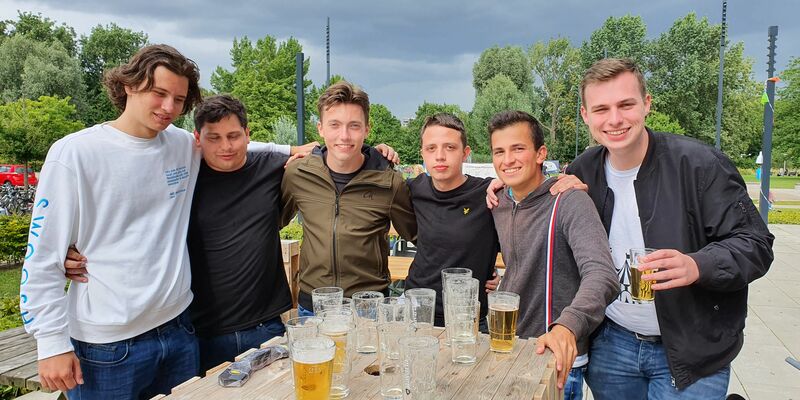 Intro 2021

,

Student

07/09/2021
'We'll be together from Intro to graduation'
"Intro is all about making friends," to quote everyone in an official role who addresses our new students. Cursor found an example of these words in action when your reporter stumbled across the hard core of one of Industrial Engineering's Intro groups. Team Bierchi, also known as the 'Balkan boys', comprises six students eager to start their degree programs. They have agreed to give Cursor an update every year. Today we are introducing them.
Six lads, strangers to each other before the Monday of Intro Week, who four days later had become inseparable friends for life. Cursor came across them early Friday afternoon, laughing boys content with their lot and drinking beer in community cafe Hubble. That some of them are drunk is no strange thing, after all, they are trying to beat the world record for downing a beer in one. Kyo van Koolwijk is currently at 1.664 seconds, but he is keen to try once more, twice more, or perhaps three times.
"We came here to sink a beer or two," says Daniël Yordanov (Bulgarian background), but Kyo went right ahead and ordered a 'duck' ('een eend' in Dutch, ed.). And then another." At Hubble 'a duck' is a tray of 12 beers. And with it Kyo had the timer, the one you can operate while downing a beer. By his own account, Daniël is the most sensible drinker in the group. "When I notice I'm starting to feel off-color, I just stop. I don't drink through it, like you sometimes see other people do. It hasn't escaped my attention either that I'm often the one taking the others home."
Balkan
The six realized they were mostly all bicultural. Having parents or grandparents who started life in Europe's southeast region inspired them to call themselves the 'Balkan Boys'. The team naam 'Bierchi' comes from the first effort of their Turkish group member, Can Kücüközkan, to spell the word 'beer'.
Mirko Talev, whose parents come from Macedonia, is another group member. "We've had a good Intro, just played with water really." Next year when he's an Intro buddy, he wants to give his charges something of what he has missed this year. "A little bit of serious info about what studying involves, that sort of thing." Today, Jelle Baumgarte (not from Germany but Axel in Zeeland) is entirely disinterested and Bart Vriese feels the fact that they have become friends is way more important right now.
Still, they have learned a lot. "We can find our way around everywhere. And the bike shed beneath Atlas is close, safe and empty," says Bart. They predict that in a year's time they will still be a group of friends. Mirko is very sure about that. "We don't argue. We trust each other. We won't break up! We don't need any nicknames."
Good intentions
Other plans they have for this year: Can is going to join TU'e's basketball association. They are all going to get their BSA; Jelle is even going to get all 60 ECTS. Bart thinks that everyone will be living in student accommodation. Mirko wants to have started his own company designing websites.
On Intro Thursday Jelle enrolled - provisionally - in SSRE, at least he has paid his 30 euros. He is as curious as the others to see whether he actually becomes a member. Cursor will be following the six over the coming years. On hand to report on any important student matters that may come up.
Before Cursor leaves them - for the time being - in peace, Kyo pops over to ask whether the editor has realized that he is playing his Intro role. "I'm really a highly motivated student, you know." Time will tell.