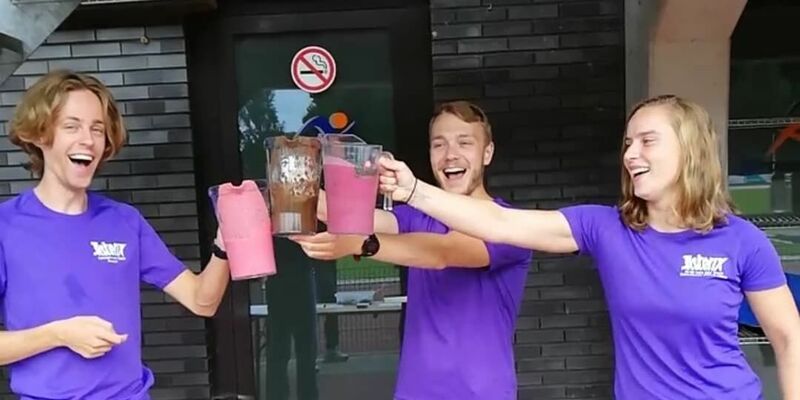 Sports

,

Student

14/09/2021
Athletics association Asterix raises funds for children in Eindhoven
Eindhoven has been the home city of athletics association Asterix for more than fifty years and now it is time to give something back to the city. A new committee has been set up to collect money for disadvantaged children who want to play sport, but who are hindered by financial hardship.
"Whenever we are competing and we cheer on our team mates, as an athletics association we call out the name of the city we come from. So in our case that's Eindhoven. Over the years as an association we've come to feel closely connected with the city and now we wanted to give something back," says Annelies Dekker. Dekker is a member of the committee created at the start of this year to make that 'giving back' happen. "In February we discussed organizing something and this committee came about as an initiative of the Activities and Sponsorship Committee," says the journalism student, who lives in Eindhoven.
Juices and pull-ups
The charity committee was initially keen to organize a 24-hour race, but the corona measures scuppered that plan no fewer than three times. "Then we decided to take a whole new approach and make the fundraising campaign more individual. We started in early August and have urged our members to undertake something or other as a way of collecting money. The schemes range from selling juices to doing as many pull-ups as possible in fifteen minutes." And things didn't stop there. Athletics associations in other student cities, like D.S.A.V. Dodeka in Delft and W.A.V. Tartlétos in Wageningen, also joined the campaign. "Doing something together again and meeting new people is simply great for the members," says Dekker.
Dutch Student Championship
The charity campaign ends on Saturday September 18th, the day on which Asterix has organized the Dutch Student Championship (NSK), a slimmed-down version of the Great Dutch Student Championship (GNSK), last held in 2020 in Enschede. "Sponsoring will go on right throughout this event, which of course is being held in Eindhoven. At the end of the day we will hand over the total amount in the form of a check to Jeugdfonds voor Sport and Cultuur Eindhoven (Eindhoven Youth Fund for Sport and Culture). They in turn will ensure the money gets to the children who need it." The amount collected currently stands at 713 euros. "Our goal is 2424 euros. We decided that when we were still toying with the idea of a 24-hour race."
Even though the committee has only a few days left to fundraise, Dekker is confident that the fundraising goal will be reached. "Various activities will still be taking place in the coming days. A number of members will be baking apple pies and tomorrow I'll be pitching in too." Dekker is currently still in Denmark on vacation and will return by train on Wednesday. "I have been set all kinds of tasks to do during the train journey, like singing a song. For every task I complete, I increase the amount I raise. I'm going to be busy!"