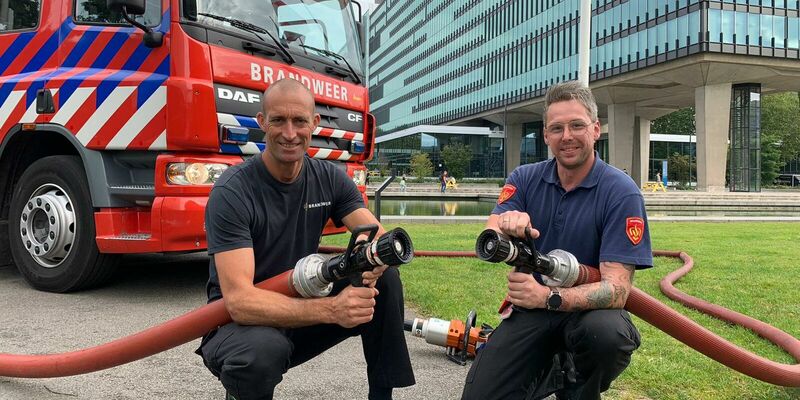 TU/e Fire Department at World Police & Fire Games
Deputy fire chief Tim Schippers and firefighter Jan van Schijndel of TU/e will be taking part in the World Police & Fire Games 2022. The competition for firefighters and police officers pushes participants to their limits, so the men are training their socks off.
"It actually started with a burpee challenge when corona was at its height. This was organized by the Eindhoven Fire Department. We found we could do it so well that our motivation to do challenges was fueled," says Schippers. They found the test of their abilities they were looking for in the World Police & Fire Games. This is a global competition and in 2022 it is coming to the Netherlands for the first time. With 61 participating countries and more than 10,000 participants, it is the world's biggest sporting event for police and fire services. There are general sporting elements, like running, as well as specific firefighting elements, like lifting hoses and saving a dummy. "These elements are based on our Periodic Preventive Medical Exam. Everyone finds that a daunting prospect, but for us it has become a cakewalk," says Schippers. "A nice benefit of taking part in this competition."
Many extra kilos
Anyone who imagines the competitors will be wearing regular sportswear must think again. "We have to wear a firefighter's jacket, helmet and breathing equipment to compete in the firefighter-specific elements. All told that's easily 30 kilos," knows Schippers. "We are on track with our fitness building," says his colleague Jan van Schijndel. "But what we need to train now is our explosivity. The competition is going to involve things like dragging an 80-kilo dummy. That demands a lot of energy and power in a short space of time."
Their fitness work is now almost daily, and involves mainly running. Van Schijndel is now covering 10 kilometers in 51 minutes, Schippers is clocking 48 minutes. "But actually we've got to run wearing the firefighter outfit," admits Schippers. The men have another ten months or so in which to train. At the end of July 2022 the World Police & Fire Games will be held in Rotterdam.
TU/e fire chief Eric van der Heijden is coaching Schippers and Van Schijndel to victory. In preparation for the Police & Fire Games the three firefighters will be taking part on Sunday September 19th in the Sahara City Run in Lommel, a race over challenging terrain.
Like to see more of the TU/e Corporate Fire Department or curious about what a job like campus-based firefighter involves? Cursor will soon be joining the team for a day and will report back. Because they certainly have more to do than sit around waiting for a call-out.