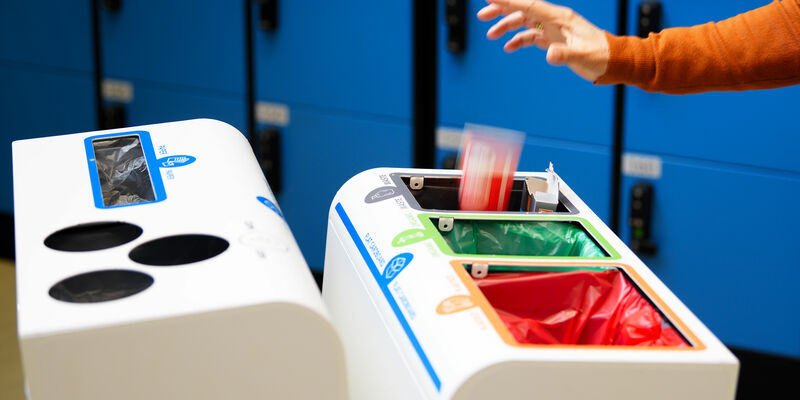 Campus

,

The University

30/09/2021
Partners project Zero Waste share their first experiences
Reducing the pile of residual waste to zero – which is what TU/e wants – is possible only through collaboration between all the partners who bring materials to the campus on a daily basis. Think of food, paper, tables, coffee cups and cleaning products even, and ask yourself where the residual materials go. The caterers, cleaning company Asito and all other suppliers sat down with waste processing company Renewi and asked themselves that very same question. "The developments are currently moving at a very rapid pace."
The university's ambition to become waste-free by 2030 can only be achieved when we say farewell to the current system with which we produce and use materials. The involved facility service providers at TU/e met five times over the past period to come up with ways to reduce the university's waste pile as much as possible. During their final presentation, they shared some interesting practical experiences.
Waste coach
Cindy Beckers, who works as a supervisor for cleaning company Asito at Radboud University and TU/e, tells a story about waste coaches. Approximately twenty employees who clean the public spaces on the campus during the day, were taught by Renewi how important it is to separate waste. One of them is John Jagroe, who works in the Auditorium. "I heard that it costs Renewi much time and energy to separate waste afterwards. I will now make sure that I properly separate the waste first. I now also support the decision to remove the waste bins from the lecture halls. I had my doubts at first, because I don't want to pick up waste from the floor. But this way, we basically force students to throw their waste in the Tulips (bins in which separated waste is collected, ed.), and I see that it works."
Asito asks the waste coaches to look a little bit beyond their own work. Beckers: "We ask them to show hospitality, and to answer questions about waste from the people who use the buildings. That's new to them, and it sometimes takes a bit of time before they are used to it. But I've already heard employees talk enthusiastically about interactions with students. One student wanted to know where to put an empty bag of chips. It goes with the residual waste, incidentally, because it has a thin metal layer."
Rapid developments
Steven ten Cate, account manager at caterer Appèl, informs the attendees that the rapid pace with which developments sometimes move, leads to a change of insights during the implementation of a process that causes the introduction of a new, even better process simultaneously. He cites the coffee cup as an example.
"Coffee cups produce large volumes of waste. They also contain a coating that makes it possible to recycle them only into toilet paper. This doesn't fit into a circular waste system, because the cup doesn't return as a cup in the chain, but as toilet paper. There are developments underway that make it possible to remove the coating from the cup, but that still leaves us with a large volume. Bring Your Own could be a solution. But here you need to pay attention to food safety. Who is responsible when people use a cup that isn't clean?"
From cup to Billie Cup
At this point, Appèl believes that the Billie Cup might be a solution. Ten Cate: "We ask people a deposit for a cup, which can be handed in after use in return for a clean cup. The cup is unbreakable, and you can use it for hot drinks, soup or desserts. It's produced without any added pollutant substances. And the cup is circular: when it can no longer be handed out after repeated use, it can be processed into a new cup again."
And the developments are continuously progressing, Appèl knows. "There are currently machines in development where you can return your used Billie Cup, so that it can be washed. You then immediately receive a new, clean Billie Cup. You can also use that machine to return PET bottles or cans and get your deposit." There's still some way to go, Ten Cate says: "But we will talk with TU/e next month about if and how we want to implement the Billie Cup. And who knows what possibilities there will be next year."
Too Good To Go
Before that time, in late October or early November, Appèl plans to join the organization Too Good To Go. "All the products that we didn't sell and that we can't offer the next day, will be put on sale – under strict conditions – via Too Good to Go."
"Zero waste for residual waste is our goal too," the caterer says, "and this is a fitting solution to the problem of overproduction that otherwise would have been thrown away. In addition, a Too Good To Go package is also highly cost-efficient for our customers. Students and staff members can collect their reserved products at the location where they placed their order."