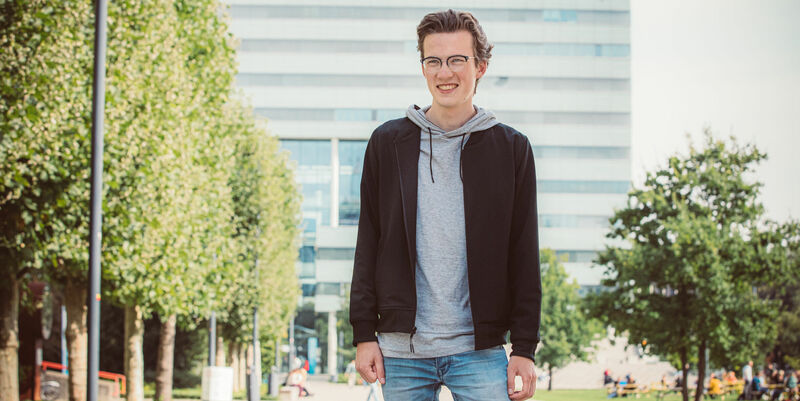 People

,

Student

22/09/2021
TU/e student completed three master's cum laude
Completing three master's degrees cum laude in three years' time, and at the same time holding down a part-time job as a math teacher at Lorentz Casimir Lyceum. Dirk Lauret makes it look like child's play, but it wasn't always easy for him. "For my very first exam at TU/e I got a 3.5."
No one, including Dirk Lauret himself, had ever thought he would complete three master's at the same time at TU/e, and with such impressive grades. On his grade list stand tens, nines, eights and a few stray sevens. "If you had told my high-school teachers that I would later graduate cum laude, they would not have believed you."
In high school Dirk had to work hard for a six or five point five and he even had to retake his fifth year of VWO. "So there was certainly no preconceived plan of completing my master's with grades like these. But when I got my first nine, and then a second, I thought, 'I'm going to give it a go.'"
Stress choosing
Why three master's? "I couldn't decide during my Bachelor's of Electrical Engineering what I wanted to do afterwards. I was going for a master in Electrical Engineering, but, while taking the electives, I discovered that I also enjoy teaching."
The electives in the area of security also ignited Dirk's interest. "That's when having to make a choice started stressing me out: should I maybe also take a Master's of Science Education and Communication? Or a Master's of Information Security Technology? I found it a really difficult choice and so I just decided to do all three master's at the same time," he says from an office at ETH Zurich, his no-nonsense attitude betraying his Brabant roots. Since August he has been working in Switzerland as a doctoral candidate.
His father's reaction when he told him that he was going for three master's was: 'You are out of your mind! Who on earth would do that!'. "We nearly got into an argument about it. My father doesn't want me to become a stereotypical nerd, only occupied with his studies. But now he is incredibly proud of me, as is my mother. And they make sure I stay grounded."
Dirk used the entire last year of his bachelor's to coordinate the three master's programs. "It took a lot of juggling because all the master's were designed to be two-year programs. With the help of the academic advisors we managed to put together a really nice study package."
You can find the complete interview with Dirk on the news site of the university.