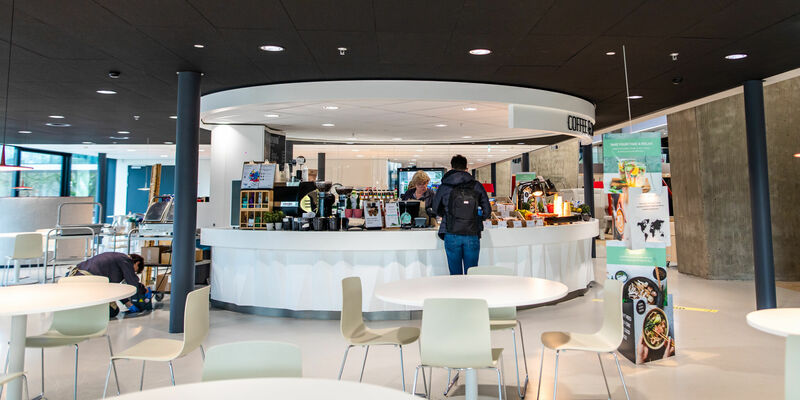 Sandwich artists in training for on-campus Subway
With the resumption of face-to-face education, the campus eateries are also tentatively reopening. As of today, you can again pick up sandwiches, salads and cappuccinos in Atlas, Vertigo and Flux. Another ounce of patience is asked of Auditorium users: the opening there of the new branch of Subway is still some time away. In the meantime, staff of caterer Appèl are being trained by Subway to become sandwich artists no less, tells TU/e catering manager Sebastiaan Aarts.
TU/e has been kissed awake from a short winter sleep and the campus is tentatively coming back to life. In-person education is possible again and so students are going to need to revive their energy while they are on campus. In recent weeks hungry members of the TU/e community have had limited options, with only MetaForum (11.00-13.30 hrs), Hubble and the Spar open. But yesterday Brownies&downieS (Atlas, 9.00-16.00 hrs) opened its doors again. Today the Atlas Coffee Bar, Vertigo and Flux followed suit, with opening hours from 11.00 to 13.30 hrs. Helix will be next, after the exams.
Sebastiaan Aarts, who manages the catering at TU/e for Appèl, is pleased to see the canteens reopening. At the same time, he is frustrated that the brakes are still on; he would like nothing more than to try out all sorts of new ideas, get back to having "some fun being enterprising". Corona isn't going away anytime soon, "And so we have to find ways to work more flexibly, with a modest staffing level. We are now employing some thirty people."
Aarts is thinking along the lines of an extra pop-up outlet in Atlas, for the busy periods, and some kind of automat in Auditorium, carrying chilled meals you can heat up yourself. "These would be fresh, local, sustainable dishes, not your bog-standard microwave meals. But, mind you, everything is still in the ideas phase."
Oregano
The new sandwich counter in Auditorium, by contrast, is now taking shape. It will be a branch of Subway. The American chain is famous for its generously filled submarines, long sandwiches designed by the customer. The opening of the TU/e Subway, originally planned for January 10th, has been postponed due to the lockdown and delays in supplying materials. The target date is Monday 31st of January, "but we could see that slipping a little," says Aarts regretfully.
"The proofing cabinets are one of the items we'll be taking late delivery of. That's where the dough rises that we use to bake our own submarines, so they are as fresh as can be." From the ovens will waft the typical, alluring aroma, instantly recognizable to Subway fans. "That is oregano, in the Spicy Italian & Herbs subs," knows Aarts, who together with two new colleagues is currently in training with Subway, to ensure that the subs prepared in the Auditorium adhere to the chain's guidelines.
With their diploma under their belts, he and his colleagues will soon be qualified to train working students, extra pairs of hands during busy periods in the Auditorium. On completing their training, the three will gain the official title of 'sandwich artist'. After all, being able to fold closed such a generously filled sub "without making a hash of it" is an art, decides Aarts, laughing.