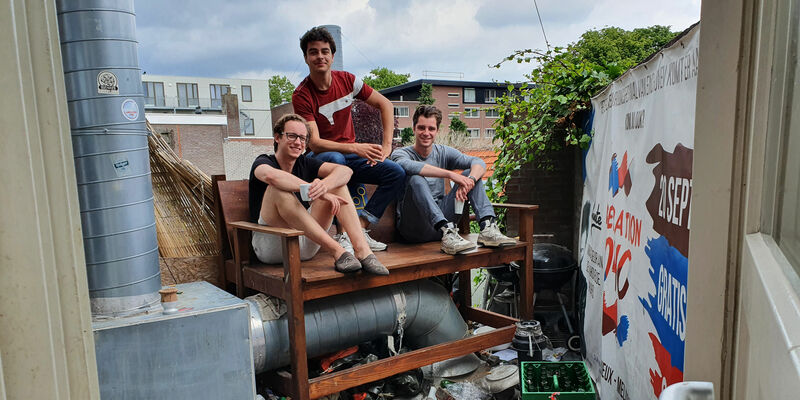 AV celebrates Neighbors' Day
It is always a good idea to invite your neighbors over for a barbecue or a meal. Especially for students who caused extra noise annoyance during the pandemic. That is why Compositum is organizing the Eindhoven Neighbors' Day for student houses. Aqua Vitae plans to host a barbecue on the balcony.
Compositum, the umbrella organization for student associations E.S.C, SSRE and Demos, is organizing a Neighbors' Day on Sunday, June 19. The organization has asked frat houses to open their doors to their neighbors in order to thaw their relationship. Because to be honest, many student houses have seen their relationship with their neighbors deteriorate during the pandemic, says Mitch Straeten, Secretary of Compositum and Fontys student. "During the lockdowns, we had more parties at home, and thus we caused more nuisance."
However, that period is over now, which is why this is the perfect time to have a bonding party. The party guests can purchase a barbecue or meal package for 5 euros per person. "Thanks to StEHVen, we're able to finance this project and we will enjoy the luxury of having them come and capture the event on photo camera", says the secretary.
As yet, the number of guests is not as high as Straeten would like to see. "We're all very busy. We live from week to week, and our schedules are full of parties and events right now. E.S.C and SSRE are celebrating their lustrum this year, and we have the Na Examen Dagen (After Exams Days) this week." He hopes that next week, more houses will put their shoulders to the wheel. This is where you can sign up.
Aqua Vitea
One fraternity that will definitely participate is Aqua Vitae (AV for short), located on Hoogstraat. The ten gentlemen would like to improve contact with their lower neighbor, an Egyptian doner vendor, the neighbor on the left and the three young adults on the right. Elano Franken says that during the pandemic, AV would sometimes be overly noisy in the evenings. "This was especially annoying to the Turkish neighbor, who's a hairdresser and has to get up early in the morning to cut his clients' hair. These days, we often turn the music down at 11 p.m. on our own accord, and if we forget, or if he's bothered by it at any other time, he simply sends us a message."
Franken hopes that the hairdresser and the other four neighbors will attend their barbecue on Neighbors' Day. According to him, the balcony is big enough (see main photo). "We're a very welcoming house", says fellow fraternity member Boy Janssen, the only one of the ten without a nickname – but that's by the by. "On Parents' Day, there are sometimes over fifty people here. And we have visitors every day."
On June 19, they will be serving their house drink, an AV'tje consisting of apple juice and vodka, and they hope to sing the Aqua Vitae song with the guests. The sheet music has already been framed and hangs on the wall.