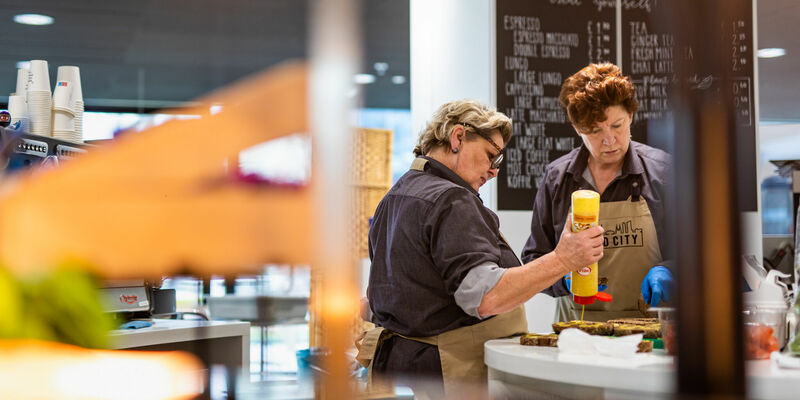 Campus

,

People

16/06/2022
"Continuously sprinting a marathon"
Various sectors across the Netherlands are facing staffing shortages, including the hospitality industry, where the situation is quite dire. The TU/e campus is no exception: the cleaning and catering companies work hard to keep everything operational and to recruit new people. In the meantime, TU/e Facility Services contributes its ideas about how to maintain a level of service provision without asking too much of employees, coordinator Bertie Fijneman-Sloots says: "We ask for everyone's understanding."
Canteens occasionally need to cut their assortment, the Zwarte Doos only opens part of its terrace when the weather is nice, and the University Club will remain closed for the time being: the services at TU/e too are affected by staffing shortages. Cursor paid a visit to four companies responsible for our coffee, lunch, drinks and for cleaning our buildings.
Canteens
Caterer Appèl, which operates the canteens at the TU/e campus, is currently short of personnel for sixty hours a week. That number will have doubled by September, account manager Steven ten Cate says. And there are shortages at other locations too. "It takes our HR department twice as much effort these days to recruit people." Employees who manage to find a new colleague are awarded a referral bonus worth 250 euros. Ten Cate invites students who are interested in a flexible side job at the university to contact Appèl.
Ten Cate worries about the colleagues who carry the burden of the current staffing shortage. "The number of employees who call in sick is almost twice as high as usual. That's disconcerting. It's possible to be on your last legs for a while, but not for weeks. We try to take the strain it puts on our people into consideration, but it's complicated."
Catering employees aren't just busy with the regular offer, but also with requests for meetings and receptions. In order not to ask too much from them, adjustments are sometimes made to the lunch assortment on busy days. The salad bar might remain closed, for example, or there won't be any homemade desserts. Sometimes, this will lead to disappointed customers, but there's no other way, unfortunately, Ten Cate says.
Zwarte Doos
"We're continuously sprinting a marathon to keep everything operational," Christian Verhoeven says when asked to describe the current situation. Verhoeven operates the University Club and café the Zwarte Doos on behalf of Vermaat Group. The former establishment, however, is currently closed – that's right, due to a staffing shortage.
"The intention is that the University Club will open its doors again in September, but I have my concerns about whether we'll manage that," he says with a sigh. "We have a shortage of both working students and skilled workers and management. That's quite a cause for concern."
Verhoeven says that it's "one step forward followed by two steps backwards:" just as he found someone new, two people resign. He understands it, especially when students decide to quit. "We weren't able to offer them anything these past few years due to the corona closures. Now they choose job offers from companies in their future work field, for example. They pay more and it looks better on their CVs."
Vermaat Group has launched a jobs campaign with a referral bonus ranging between 250 and 750 euros for its employees. In addition, new employees get a bonus: 250 euros after they've worked one hundred hours. Students who have hospitality in their blood can sign up here.
Cleaning
During the COVID-19 pandemic, Tey van den Waardenburg of cleaning company Asito was glad that he was able to retain employees who had a permanent contract, "although it shouldn't have lasted much longer." Some of those people with a permanent employment contract have been working at TU/e for decades.
Now, Van den Waardenburg faces the opposite problem: he could easily hire some five or six people, but they're not easy to find, despite the fact that the company created a referral bonus. Asito employees will receive 100 euros if they recommend a new colleague, and another 150 euros if that newcomer stays in the company's service for six months.
What ways has the cleaning company found by now to solve the problem of staffing shortage? "Happily, the team we have now doesn't have a problem with working overtime. In addition, we adjust the tasks wherever possible in consultation with Facility. For example, we don't have someone on our cleaning staff right now with an empty schedule to carry out ad hoc tasks, such as cleaning up a spilled cup of coffee or emptying a full waste bin."
Nevertheless, the working pressure remains quite high, according to Van den Waardenburg, who notices that many events are being rescheduled, which creates more work. "Student parties also tend to be – how shall I put it – a bit more exuberant these days than they were pre-COVID," he says with a smile.
Coffee machines
Joop Hake works for MAAS, the company that provides municipalities, the police, prisons, NS, Schiphol and TU/e with coffee machines. He "searches everywhere" for new operators for the company's coffee machines, since approximately 25 out of 390 vacancies in total still remain unfilled.
In addition, Hake needs more employees since the end of the pandemic to fill the same number of hours. "People have experienced how nice it is to spend a day at home: daddy day is popular." Clients are inconvenienced by this undercapacity: "Sometimes they're out of sugar, or that one specific brand of tea." This means that Hake and his colleagues often need to continue working at night and during the weekends.
MAAS does everything it can to recruit people. "Referral and overtimes bonuses, the possibility of saving up for leave, Bol.com vouchers," Hake says. "But applicants sometimes have ten irons in the fire and don't make a decision, there's always a chance that they can find a better offer somewhere else."
He himself is unhappy with the new situation, but he also finds it fun and challenging. "And let's stay positive: we get to go outside again after two years – and this, apparently, comes with the territory."
Having to say no
How does TU/e deal with the difficulties the service companies are faced with due to staffing shortages? "We are in contact with our contract partners to see what we can and can't do," says Bertie Fijneman-Sloots, coordinator Facility Services. "Sustainable employment is what matters most, and this means that they sometimes have to say no."
Fijneman-Sloots recognizes the increase in the number of requests for parties and events, and the pressure it puts on the understaffed catering and cleaning companies. "We receive many complaints, more than ever in every area." That's not just because of a staffing shortage, by the way, but also because of deliveries: "Wholesalers can no longer deliver every product."
She understands why people complain: "You want everything to be at the level you're used to, especially when you receive guests." The same is true when your favorite salad isn't available, or when the waste bin is overflowing. "Still, I would like to ask everyone's understanding. We are doing our utmost best to keep service provision working as best we can, but the shortage of staff in the contracting partners means that the pressure on the teams is high. We want to protect those employees."