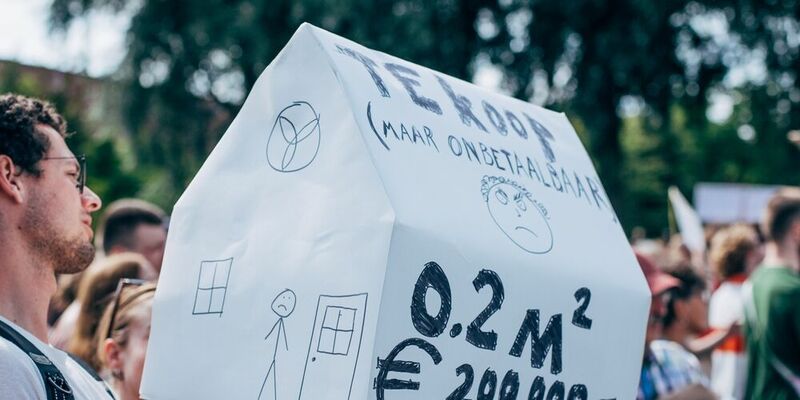 Housing protest: from deprived neighborhood to city center
On March 13th, Eindhoven will stage a housing protest like those held in many other cities. TU/e alumnus Rutger Rauws is co-organizer and expects some 400 people to join Sunday's protest for affordable housing. "This is relevant to everyone, especially to students. They can't help but be confronted with this issue."
On March 13th, the housing protest will start at 14.00 hrs at the Anthony van Leeuwenhoeklaan park. From there, it will move to Stadhuisplein, taking a route through Strijp-S. Rauws: "The starting point has been carefully chosen, it highlights a striking contrast between a neighborhood facing challenges (Limbeek) and a new neighborhood with a lot of urban renewal." According to the TU/e alumnus, the housing protest is designed to focus attention on the housing problem and inequality, and the need for policy to make a difference. "Various pieces of national policy have led to this situation. Such as the jubelton (tax-free gift of 100,000 euros among family members to help with a home purchase, red.), which has increased inequality."
For students the situation is very difficult. There is currently a shortfall of 26,500 student rooms, knows Kences, the knowledge center for student housing. Some students are even stopping their studies because they cannot find suitable accommodation. And it is not only students who are caught in the housing crisis, senior citizens unable to move to a smaller home are another piece of the puzzle. In some places there are not enough suitable homes for retired people, added to which a financial deterrent is at work: moving from a long-term family home to an apartment is often an expensive step. Something that older people find off-putting.
So, what can be done? Rauws has some ideas. "I think we need to return to having more control over landlords. We need to build more social housing. The percentage of social housing has declined drastically since the early 1990s, in line with government policy. Housing was a right and has become a market. And this kind of rented housing didn't used to be only for the very poorest. In addition, an owner occupancy requirement can help. Setting a period of, say, five years after purchase that the owner must occupy the dwelling. This prevents a home being viewed as a moneymaking commodity. At least now we have a Minister of Public Housing again."
Applying for a home
Rauws knows from personal experience what it is like not to find a house. "Last year I was looking for housing, together with my girlfriend. I'd just started working, she was still studying. Just try finding somewhere to live. You can easily pay 1000 euros for 60 square meters, if you even find anything. And on top of that you need to be earning three or four times the monthly rent, it's impossible." Eventually, Rauws did find something, a social rental in the new building Trudo Toren on Strijp-S. "You had to write a letter of motivation and of course the number of candidates far outstripped the number of apartments. I am incredibly happy to be living there now, but everyone else deserves a home too. Housing is simply a basic right."
While finishing up his degree, Rauws started the association EHVXL, which is concerned with Eindhoven's urban development. "I was doing it as a hobby but I learned a lot and it also brought me into contact with local politics." That started the ball rolling and he is now standing for election for GroenLinks, where he hopes to be able to exercise more influence to improve housing policy.
Tents on the square
On February 13th Rauws's group held a dress rehearsal for the protest, a tent campaign on 18 Septemberplein, a city square. An appeal was sent out to people to set up tents as a protest against the lack of affordable housing. "It's obvious to us that things have to change if we, and future generations, are to have affordable homes. We made a policy choice to come here, and with government policy we can solve this problem," says Rauws. "We need a new wind blowing. This is why we are holding the protest the day before the elections. It will, I hope, be on everyone's mind that voting is worthwhile, that this is how you help decide what the new policy will be." Rauws is appealing to everyone to attend the protest on March 13th, and to go out and vote. "I don't mind who you vote for, but just vote. Then you will influence the city council and that's where decisions are made about building local homes."