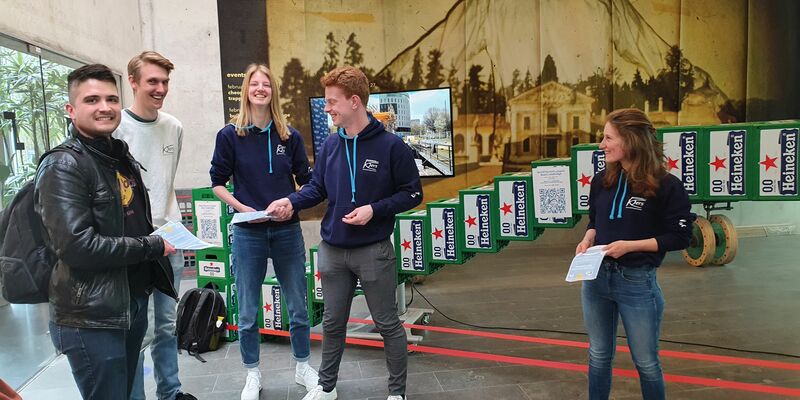 BKB committee wants to build 40-meter bridge
With a significantly longer span, TU/e's Beer-crate Bridge committee 2022 is going to break the record held in Eindhoven since 2016. Four attempts by TU Delft and University of Twente have failed. TU/e recognizes the complexity of this construction challenge, but it is strongly believed that on May 11th a 40m long bridge made of 12,000 beer crates can be built on the Fluxveld. Secret weapons are the new method and the alternative shape.
It is a shame, but the Beer-crate Bridge committee has to break its own record. They have known this since Saturday March 12th, when Enschede's civil engineering students did not manage to break the existing record of 26.69 meters. The beer-crate bridge was built by TU/e students in 2016 across the Dommel.
"On reflection, that is the worst place imaginable on the campus," says Laura Vrenken, master's student of Structural Engineering and Design and a member of the bridge-building team. "Because we now want to make the bridge one and a half times as big, we have chosen a site that is better sheltered from the wind and offers solid ground. We are going to the Fluxveld."
Structure
Starting April 18th, as many volunteers as possible will work on site to turn the materials donated by sponsors into the biggest beer-crate bridge of all time. "It will have two towers, each over 8 meters tall, built on foundations of sand and concrete slabs. They will comprise 5,000 borrowed Heineken 0.0 crates, filled with bottles of water," explains Jelle Versteege. The structural engineer is doing a PhD in 3D concrete printing and is a member of the Beer-crate Bridge committee's design team.
Read on below the render.
"Between the two towers, which act as buttresses, we'll use 5,500 crates to build a bridge that is 6.5 meters tall. We'll raise the bridge by jacking it up, which we'll do using a construction that exerts force on the towers." Versteege witnessed the failure of the bridge in Enschede and saw what went wrong. "Like us, they wanted to bring the towers closer together in order to use the tension this creates to stabilize the bridge. But they used a lashing strap, positioned a little too high up. As a result, the towers twisted slightly and the tension they needed was lost."
Shift
Learning from this, the team in Eindhoven is keen to avoid using a lashing strap and wants to exert force on only one tower – while it is still under construction. "We can shift a half-built tower using a hydraulic cylinder," says Vrenken. "Think of a paving slab, we're talking that kind of distance. Then we'll finish building the tower using full crates and that will make it so heavy that once we've removed the jack there's no chance it will shift back." Vrenken's team has already performed this feat on a smaller scale and a 10 m arch of beer crates had to be compressed 10 centimeters.
Another piece of ingenuity feeding the Eindhoven team's confidence that their record attempt will succeed is the bridge's new shape. The bridge is narrower in the middle than at its base. This makes it lighter and less vulnerable to the wind.
Scaffolding
It's going to be a job in itself to de-scaffold the bridge, sighs Versteege. "The Romans also built arches and they were able to make their wooden scaffolds collapse by tapping on a certain plank, and doing this made the arch strong and stable. What we have is a 40m long arch resting on steel scaffolding. We will draw it down in a number of places at the same time so that the bridge drops in a controlled way. We'll have to keep a close eye on how fast it needs to drop at each spot. That will depend on the curvature."
Listening
The 2016 committee has impressed on Versteege not to rely wholly on computer models. "We need to use gut instinct too. That's why we are now teaching ourselves to recognize the sounds you hear when the crates are under various degrees of tension. We give them a tap with a rod. It's knowledge we'll need when we are building."
If the bridge can stand unaided for an hour on May 11th, the record will be prolonged. TU Delft won't stage an attempt to break the record, Versteege knows. "I heard that Delft is keen to break the association between students and beer crates, and wants to stop supporting the project. But I want to emphasize that this is a project about building a complex structure. Whether the crates are blue or green or Fristie drink pink is neither here nor there."
For the first time in the record's history, the crates collected for stacking will be green, Heineken's color. And they're printed with big zeros to indicate 0.0 % alcohol content. That's happenstance, explains Vrenken. "We approached several breweries and Heineken was the most enthusiastic and loaned us these crates. What's more, we carried out some tests and found that Heineken 0.0 crates are the strongest ones.
Demolition plans
For the first time, a Beer-crate Bridge committee has written demolition plans. Plan A has a telescopic handler lifting up the bridge until it neatly falls apart; in plan B the students will break down the buttresses with their bare hands until the bridge collapses. Plan A will be quicker, and speed is required; study association Lucid needs the Fluxveld the week after for a festival. "All the sand, the concrete slabs, the fences, the scaffold poles, the water reservoir built from beer crates in which the bottles are filled and the party site, everything has been demolished afterwards." The 22-strong beer crate committee is hoping to get plenty of volunteers. You can follow how the project is progressing on Insta (@bkb_koers) and on their website.