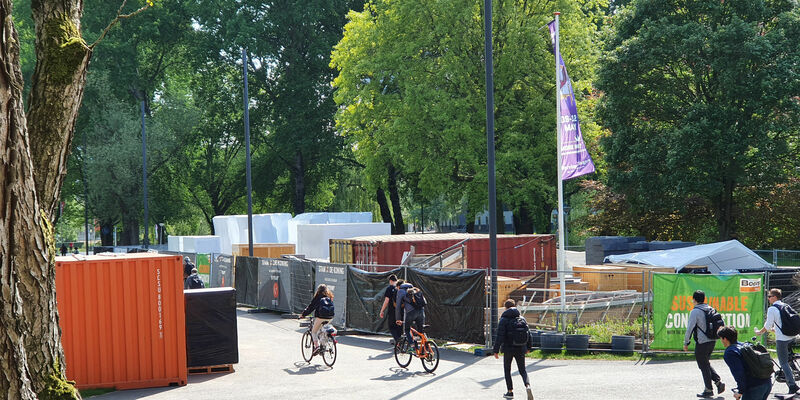 Campus

,

Student

16/05/2022
VIRTUe prepares for competition
The sustainable house known as Ripple, which was built by Team VIRTUe over the summer vacations in only five weeks, has now been disassembled into modules, packed and is ready to be shipped to Wuppertal. This German city – an hour and a half's drive from Eindhoven – is where the house will be assembled, as of May 20, to compete in the Solar Decathlon Europe (SDE 2021). Starting June 10, the jury of this sustainability competition will be judging the wooden house on ten different components. VIRTUe has high hopes for Ripple.
In addition to the themes of energy consumption, architecture and sustainability, solar decathlon SDE also includes innovation and social awareness as competition components. Rody Mens, Biomedical Engineering student and the team member in charge of external contacts, expects VIRTUe to go far in the competition. His optimism is due to at least five advantages that the other teams lack – as far as he can tell. There are 16 other student teams competing in the solar decathlon. At the start of the competition, almost three years ago, there were 18 teams. However, word came this week that the team from Bangkok has missed the boat and cannot make it to Germany in time.
Chances of winning
"Ripple has the potential to win because it allows for the retrofitting of existing buildings. By placing a Ripple demonstration unit on the roof of a concrete building, you integrate sustainability into the existing structure. In addition, the design of the flexible exterior shell adds an aesthetic quality to the city", Rody explains. "And we also focused on awareness aspects. We integrated a display for energy management in the house. On top of that, we developed a lifestyle app that offers residents insight into their water consumption, eating patterns and electricity use."
But there are even more benefits. "Our solar cells are integrated into the building material used for the facade and eaves. Not only does it look amazing, it's also an important consideration because we develop on top of existing buildings, which means that the surface area of the facade is used in a relatively more efficient way. Most importantly, VIRTUe has the edge when it comes to construction experience. We were able to assemble Ripple in five weeks, without a hitch. So afterwards, we had enough time to get the system working and to run tests. Many of the 55 team members wanted to stay so we whipped up some pasta and spent the night there."
Limited resources
"Despite all that preparation, the logistics of the entire operation pose a complex challenge", says team member Friso van den Boogert. He was already a VIRTUe member when the team competed in the first contest in Dubai (SDME 2018) and has since graduated. The logistics of the operation are causing him a great deal of worry. "We've been allocated a rather small construction site. We can't store anything there so we have to use all the materials we bring there right away. Because of this, we're dependent on transporters, which we don't really have a lot of money for. We're obligated to rent large equipment from the organization itself, so we can't borrow cranes, forklifts or telescopic handlers from a sponsor – we have to pay for it ourselves. SDE says this is because of safety reasons. This means that, during the construction there, we have to take into account that the building material has to be driven in from Eindhoven about two hours in advance. Hence, the equipment is currently stored at the KOE field on campus." VIRTUe has a total of ten truck containers available for the house and several more trucks for construction supplies. Additionally, some of the materials are stored indoors in the storage building on the east side of campus.
Competition and tour
Rody Mens is looking forward to "Netherlands Day" on June 11. "We're organizing this event in collaboration with the team from TU Delft. We want to show the innovations the Dutch student teams have to offer and so, we have invited several student teams that have relevant ideas for the city of the future. We're going to give tours with a Dutch theme. We'll be serving stroopwafels, for example, and hosting traditional Dutch games such as sack races and spijkerpoepen."
Rody: "Regardless of whether we win or lose, Ripple will continue. Our overarching goal is to enable low-impact living for as many people as possible. The same is true for the other SDE participants. We try our best but we don't feel the need to outdo the other teams."