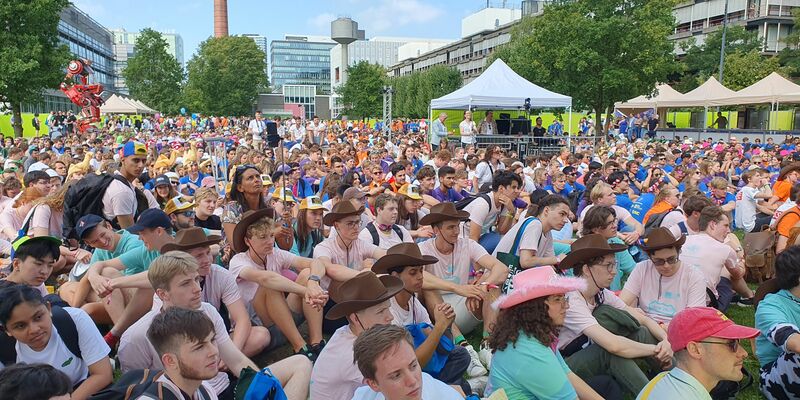 Culture

,

Intro

,

Student

21/08/2023
Intro 2023 | Rector and Lucas De Man open Intro
"Get to know yourself", "Make mistakes" and "Let out your emotions," are three of the many pieces of advice given to Intro attendees by Rector Silvia Lenaerts and theater man Lucas De Man during the official opening on Monday morning. People listened attentively and there was laughter, fun and even a little bit of dancing at the Flux field.
It's the start of what we expect will be a very warm intro week, and all the groups are flocking towards the Flux field for a speech by Rector Silvia Lenaerts, a performance by Lucas De Man and an introduction to the Central Introduction Committee (CIC).
Lenaerts urges students to make the most of their student life. "Get to know yourself, in your own way. Start your own life. Make mistakes. Dive into your books but also think out of the box. This university offers the opportunity to do so," are a few of the statements she reads from a paper. She hopes the students will explore new paths. Her speech also addresses the topic of respect for others. "Always think about why someone is saying something."
The rector - who is passionate about valorization - also quickly points out to the newcomers that TU/e aims to offer all master's students a job in the Brainport region during their master's studies. The students are still fresh-faced this Monday morning, and kindly thank the Rector with a warm applause.
Lucas De Man first makes the students chuckle and then laugh out loud. He immediately whips the students into action. "Sit down if you were born in the Netherlands." And then: "Sit down if you have lived in the Netherlands for two or more years." Those still standing receive a special and hearty welcome from De Man. In another round, 30 seconds of music is played, and in that time students must show that they can dance. "For the Dutch among us: you have hips. Use them!"
Emotions
Next, De Man has all students raise their hands and wave them about. "These are your emotions and you have to let them out." They do so en masse, and the Belgian theater maker - who is here at the invitation of Studium Generale - expresses his satisfaction, noting that he has achieved something beautiful. "This is the first time Dutch people are showing their emotions in public."
He says the final multiple choice question has "more depth." Students must step to the right if they want to improve the world and to the left if they think that things are just fine as they are. Students who have stepped to the right get to make a fist if they think they can contribute to that improvement. That is something everyone is convinced of this morning, which is why a group hug is in order, according to De Man. He makes sure no one is left out. "There's someone standing by himself at the back left of the field. Hug him."
The CIC has the honor of pressing the big red button after which the Intro is officially declared open with garlands, smoke and fire.