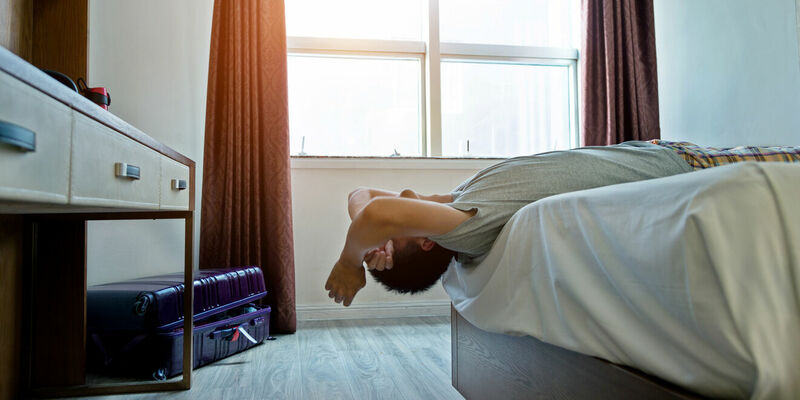 Employee

,

Student

13/02/2023
Cursor goes course-hopping | Sleep
Since it's never too late to learn, we at Cursor always make time for a good course. The first one on our list is Healthy Lifestyle: Sleep & Relaxation, organized by TU/e's Learning & Development Support and taught by and external agency. Sleep cannot be underestimated. You need sleep to recover both physically and mentally from workload and stress.
Together with ten women and two men we attend the sleep course. Seated in a U-shape at work tables, we watch as the instructor enthusiastically goes through his powerpoint with us. My gaze also frequently drifts to the window, because wow, what a view! The 11th floor at Atlas during sunny weather, looking out westward; I highly recommend it.
Maceo Hielckert, health advisor at Human Capital Care, shares his biological and psychological knowledge with us and gives some interior advice in passing. "It's best for the bedroom to be really dark." The key is to associate your bed with sleep: "If you lie awake for more than 15 minutes, you should get out of bed. And don't sleep in other places, like the couch." One of the teacher's recommendations is to go to bed at the same time every night and get up at the same time every day.
Train
Meanwhile, my fellow insomniacs offer tips that pique my interest. "There's a podcast with bedtime stories in which nothing happens that's not worth missing. I use it to fall asleep quickly", says the woman to my right. "When I lie awake worrying about something, I imagine myself standing on a platform where trains pass by. I put every thought on a train and watch it leave", says a woman on my left.
What I personally like most about the course is that twelve of us TU/e employees get to talk about a shared personal problem. It brings a sense of recognition and with that, even some comfort. It's nice to know that I'm not the only one. The instructor says as much: "63 percent of Dutch people say they are dissatisfied with their sleep quality", but numbers like that don't mean as much to me as a colleague who's been complaining about sleeping poorly for two years. I go home with renewed optimism.
The first night
Filled with confidence, I head to bed. After fifteen minutes, I think: 'I'm supposed to get out now'. But the bed is so nice and warm... After 25 minutes, I get up to go to a cooler room, as recommended. Fortunately, I have white curtains and the street lights are on, so I don't have to wake my partner by turning on a lamp.
Once I get downstairs, I think about trying that podcast; "Nothing much happens" is what the series is called. The soft voice narrating the story, Comfort and joy, is really very soothing and I realize that the hard kitchen chair is not the place where I want to fall asleep. I hurry back upstairs and slip under the still-warm blankets.
Back in bed
Eyes shut. Geranium on windowsill. Boring. Yellow, pink and blue geraniums lined up in a polonaise. Chaos. Embrace the chaos is a book by Jan Rotmans. And meanwhile the earworm It's me, hi, I'm the problem it's me is stuck in my head. I'm heading to the station now.
Just put the flower pots on the train. 'Bye'. Rotmans' book on the next train. Is there still room for Taylor Swift and her Anti-Hero? 'Bye-bye'.
Sigh, sleep, toss, sleep
Sigh, sleep, toss, sleep
I wake up dead tired. It's Friday. A fitting name, because this part-timer literally has a free day. I toss and turn again and sleep in as long as I can.