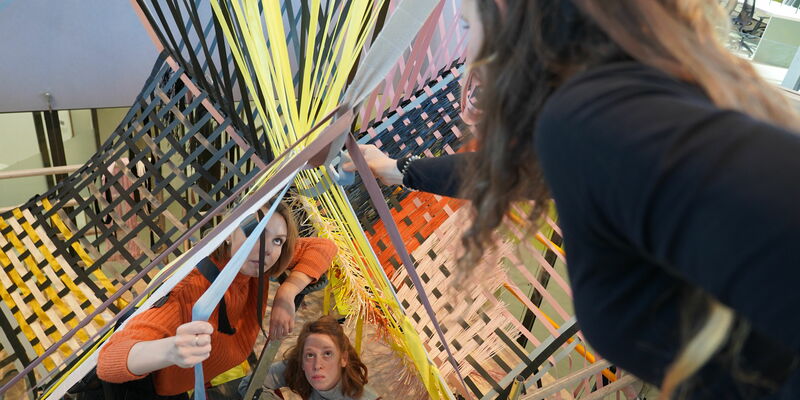 Campus

,

Employee

,

Student

15/02/2023
Weaving the "beating heart" in Neuron
You can see it with your own eyes: an artwork is taking shape in Neuron. More prosaically, what you'll actually see is a structure suspended from the ceiling and, below that, a scaffold occupied by artists and a couple of TU/e's own people. Here, they are weaving wonderfully patterned strips of paper and ribbon into a three-dimensional object. With its glass walls, the space here may feel an aquarium, but this is where "the beating heart of Neuron" is being built.
As people work with their hands on site in the coming months, the artwork, Loom Room, conceived by Hella Jongerius for Neuron will become a striking sight. With the framework now built over the past four weeks, students and employees have the opportunity to help with the weaving. Fransje Gimbrère is the senior designer on this project and she welcomes the Cursor editor, who is lucky enough to have been asked to lend a hand for a couple of hours. "Would you mind first of all going down to the basement with Jana, helping her run some paper through the shredder?"
Read on below be video.
Piece by piece
Loom Room suits the building well, thinks Gimbrère. "You can walk around it and it connects the ground floor with the first floor, but no one can see the artwork in its totality. That makes it very interesting." For the team of designers creating the piece, the weaving is physically demanding. Jana Visser can skip her gym sessions, she's noticed. "We're doing a lot of walking to collect materials, we're climbing up and down the scaffolding, and we're weaving above our heads. Come the evening, I'm physically tired. During the day, I feel like I'm in an aquarium making a beautiful fish."
Hella decides
The installation is made from of a selection of highly diverse materials, making possible all kinds of color blends and mixes as well as combinations of rough and smooth. There are more than twenty colored ribbons of cotton, satin and polyester and as many colors of paper. "
The patterns are created as we work,' says Gimbrère. "I give Hella a lot of feedback. We look at how the colors influence each other, the effect of light falling on the artwork, and the like. Nothing is permanent yet. Today, in fact, we're only making sketches. Here and there, as they get final approval, we'll sew various sections into place. Then a piece of the scaffolding can be taken down."
Expansion anchors
Standing on the scaffold, I'm struck by how much interest is being shown in this work in progress. Students have mostly practical questions, Gimbrère has noticed. And they want to know if anything is going to be built or taken down. "I wonder what the diameter is of that expansion anchor," we hear said above our heads.
Jelmer Bontje is looking at the artwork with interest. The fourth-year Industrial Design student remembers the former Laplace building and has mixed feelings. "Our department was the building's last user before the renovation project. Back then, there was a very special atmosphere. We didn't have to worry about anything getting broken and we were even allowed to write on the walls. I think Neuron has turned out really well. Very sleek. And this artwork contrasts with that because it's organic, fluid. It's like the building has been given a beating heart, partly because this artwork connects all the floors."