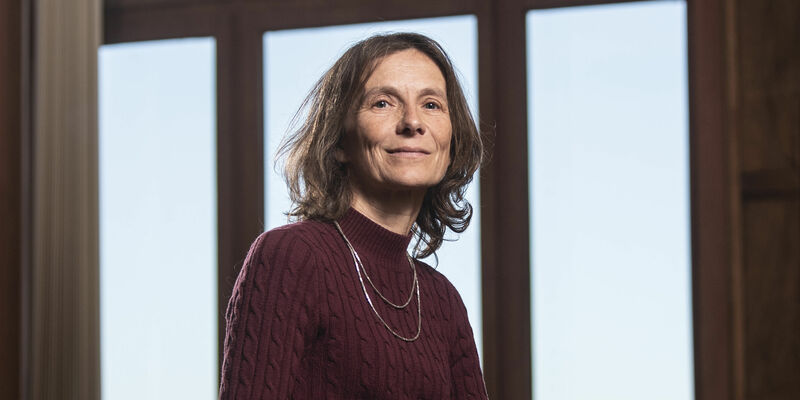 The University

,

People

16/01/2023
For the first time TU/e will get a female rector
Silvia Lenaerts will be the new rector magnificus of Eindhoven University of Technology. Lenaerts, who is currently a professor and the vice-rector of Valorization & Development at the University of Antwerp, will be the first female rector of TU/e. On May 11, the current TU/e rector, Frank Baaijens, will hand over the chain of office to her. Baaijens will continue his work as a professor within the Department of Biomedical Engineering and the Institute for Complex Molecular Systems.
Since 2007, Lenaerts (1966) has led the Sustainable Energy, Air and Water Technology Group that she founded in Antwerp. She has also been vice-rector of Valorization & Development since 2016. In this role, she serves as a catalyst and connector for Antwerp's innovation ecosystem. Lenaerts holds a large number of executive positions in the academic world and beyond (see here for an overview), including on the Governing Board of the European Institute of Innovation and Technology (EIT). She studied and obtained her PhD at KU Leuven and IMEC. She will be the first female rector of TU/e.
"We are extremely pleased and proud to be able to appoint Ms. Lenaerts as the new rector magnificus," says Peter Wennink, President of the TU/e Supervisory Board. "The advisory committee was unanimously enthusiastic about her qualities. In her, we have a strong rector, a top scientist with extensive experience in research and education. She offers compelling connecting qualities, strong leadership and excellent complementarity with the two other Executive Board members. Together, we are convinced that they make up the ideal board to shape and guide the major expected developments of the university."
Decisiveness and drive
"I am very pleased with the arrival of Silvia Lenaerts as the new rector," says Robert-Jan Smits, President of the TU/e Executive Board. "She has enormous executive experience, both inside and outside of the university world, and possesses considerable decisiveness and drive. These are qualities that will prove invaluable in realizing TU/e's growth ambitions."
"I find it an honor and a pleasure to take on this responsibility at TU/e, a top university with a central role in one of Europe's strongest high-tech ecosystems," says Silvia Lenaerts. "I believe in people and the connections between people. I believe in growing together through trust, openness and long-term cooperation in order to build a smart and sustainable society together. I'm very much looking forward to working together with everyone at TU/e."
Lenaerts succeeds Frank Baaijens, rector magnificus of TU/e for the past eight years. From May 11, Baaijens will continue his work as a professor within the Department of Biomedical Engineering and the Institute for Complex Molecular Systems. He will also have an advisory role for education and research in the field of medical technology.
Plucked away
From her current institution, the University of Antwerp, there was also a reaction to her upcoming departure through rector Herman Van Goethem. "The fact that someone from our university is 'plucked away' to become rector elsewhere makes us proud," says Van Goethem. "Silvia has fundamentally strengthened UAntwerp's external network."
Incidentally, Lenaerts was in the public eye in Belgium last June when there was a fuss about newspaper advertisements from the chemical company Ineos in which she was quoted and which made it seem as if she was positive about Project One, the new factory that Ineos wants to build in the port of Antwerp. Rector Van Goethem then told Het Nieuwsblad (only in Dutch), among others, that Lenaerts and another professor of the University of Ghent, Kevin Van Geem, had been misled. Neither of them knew their statements would be used in an Ineos ad series. They were allegedly told by a journalist from Ads & Data that he was commissioned by Ineos to make a newspaper series about the importance of chemistry in general. "It wouldn't be specifically about Ineos," said Van Goethem. "But suddenly that text turns out to end up in an advertisement that says 'together with Ineos' above, and the logo of the company."