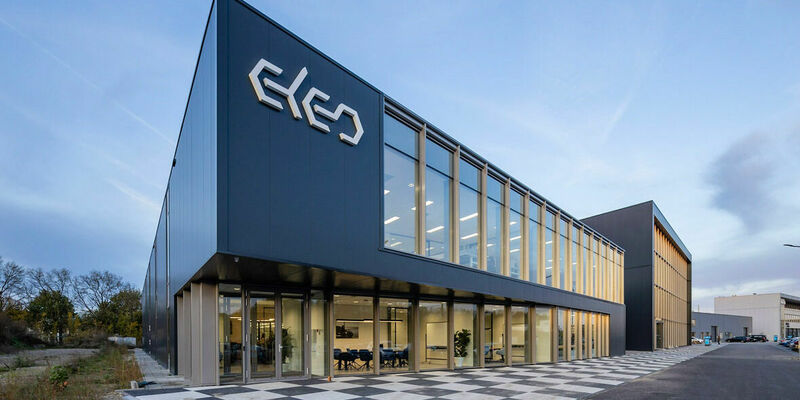 New factory brings ELEO closer to global market leadership
To show the world that electric-powered transport was possible; it was with this aim in mind that student team STORM traveled the globe on an electric motorcycle in 80 days in 2016. STORM no longer exists, but its vision of the future lives on in ELEO, a company designing and producing battery systems for industrial applications. ELEO is making it possible to actually electrify the world, says CEO and TU/e alumnus Bas Verkaik. On Thursday, King Willem-Alexander opens the company's new factory, which according to Verkaik will bring the company closer to becoming the global market leader.
Yes, it sounds ambitious, the TU/e alumnus knows, but thanks to Japanese investor Yanmar - the market leader in powertrains for industrial machines - the goal of becoming the market leader is actually quite realistic. Verkaik believes that it's important to set a goal and then go all out to achieve it. "Do that and you'll be amazed at how much is possible, provided your belief is strong." It's a lesson he learned back when he was on student team STORM, which likewise had an ambitious aim: to make an 80-day trip around the world on an electric motorcycle it had developed itself.
The team made a success of the trip. The resulting high felt so good that this achievement was hard to better. "We got back home and the very next Monday we were attending classes again. That felt so strange. We were soon looking for a new peak to ascend; we wanted another similar experience." This search prompted Verkaik, together with a group of fellow students, to set up the spin-off SPIKE Mobility. "At first we had no clear idea what we were going do to, we were just bumbling along doing various projects. And don't forget, we were still studying. One thing we did know was that we wanted to do something that used our skills: developing electric devices or vehicles."
Battery packs
The young company's first project involved creating an electric model of a petrol-powered motorcycle for a manufacturer. "At that stage we were handling the entire electrification process," says Verkaik, "But as we took on more projects, we kept on seeing where the problem lay in electrification: it was always the battery pack. We also saw that industry in particular had a host of specific applications - involving their own very specific challenges - with potential for electrification." ELEO now produces battery packs for this market. "Like everything else, industrial machines and vehicles are involved in the energy transition and must become electric. It is a huge market, though a fragmented one, as these industrial vehicles and machines come in so many types and sizes. They all need a different battery pack. We are producing a smart battery system that we can scale up to create all sorts of different packs."
Although STORM developed its own battery pack back in the day, this does not mean, says Verkaik, that the technology is a legacy of the student team. "Their pack taught us some lessons but wasn't a source of inspiration as such." Elsewhere, strong signs of STORM can most certainly be found in ELEO. Not only in terms of knowledge and experience but also the people involved. Ten of company's sixty-five employees are former members of the student team. It's thanks to these people that ELEO is doing so well, says Verkaik. "Everything stands or falls by the team: the people make the product, the technology and the company. We have a super team that makes all this possible."
Make a difference
ELEO has also been helped by the commercial contacts already in place thanks to STORM, especially in its early days. "One hundred and fifty companies were working on project STORM, and they were also keen to be involved in the follow-up, so, no question about it, they really helped us enormously." Another factor in the company's success, he feels, is the fact that it has an in-demand product that works. "Industrial companies are expected to switch fully to electric. They have no idea how to do this, but we do. With our solution, we can really make a difference." He is referring to making the energy transition possible by converting all the world's vehicles and machines to electricity. ELEO's success and having an impact go hand in hand, says Verkaik. "In our case, having big ambitions is also good for the world."
This thinking lies behind the company's expansion plans. Even before the new factory has been officially opened, there's an excavator on site, mirrored in the window behind Verkaik. "The factory is a blueprint of sorts for further upscaling. This is where we are producing our second-generation product, with which we'll be able to meet the needs of more companies, both at home and abroad. We developed our fully automated production line ourselves, and we can duplicate it here and at other sites." All this is bringing the aim of becoming the global market leader a step closer. Although, Verkaik thinks, it will be a while before that aim is realized. For now, he wants to take a moment to enjoy another new high: the opening of the new factory by no one less than the king.
Sharing knowledge
ELEO is still involved with TU/e in various ways, explains Verkaik. "At Mechanical Engineering, the Systems and Control section is also working on batteries. Over there, they're really getting down to the nitty-gritty, working on algorithms to optimize the battery cells, something we're also working on. We're sharing information." Then too, with lecturers at Mechanical Engineering, the company is looking at whether batteries can be given more curriculum space. "We'd benefit from this field of knowledge being expanded, and so would the students, because this technology is vital for the world, the future."
TU/e students are also welcome to do an internship with ELEO or to come and work here after they graduate. Verkaik sometimes pays a visit to innovation Space to inspire students with a presentation. "To make our mission possible we need good people. I have confidence in what students can do, partly because I saw what we ourselves achieved with STORM. We have a young team and space for students – including students who are less experienced. What we're doing is new, so more important than experience are the mindset they bring and their desire to learn."