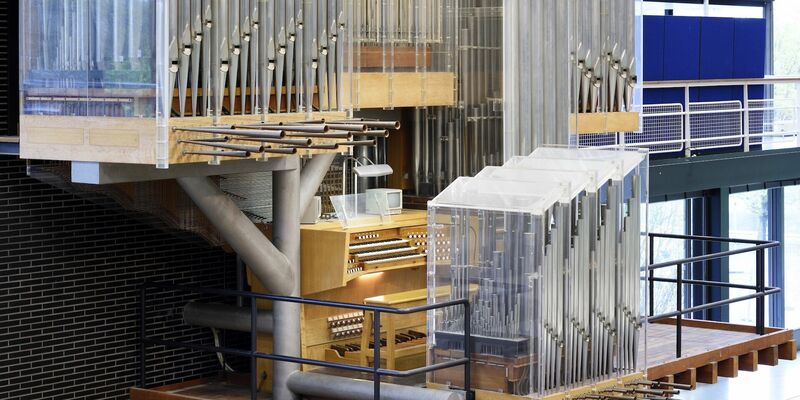 Campus

,

Student

07/03/2023
"This is pre-eminently an organ for engineering students"
For those who, gnawing on a Subway sandwich, have been wondering for years what the organ in the Auditorium sounds like, there is good news. On Sunday 12 March, wind orchestra Auletes and organist Jan Verschuren will join forces and perform a varied and appealing program. Cursor was recently at the rehearsals armed with a camera. Master's student and trumpeter Cas Mous and organ fanatic and former dean Gerrit Kroesen talk with much enthusiasm about this special musical combination.
According to Kroesen, the organ, which has been in the Auditorium since 1966, "is pre-eminently an organ that is interesting for engineering students. Through the perspex cabinet behind which the pipes are located, you can see exactly how an organ works. But for sound reproduction, perspex is unfortunately not the most ideal material, wood is much more suitable for that. Because of that perspex casing, the low mids are somewhat lost and the sound is less full." Kroesen thinks that the choice for perspex was made in consultation with the architect at the time. "In this way, the organ was more in line with the modern concrete building in terms of appearance."
It does not detract from the quality of the organ and in the period that it was installed, according to Kroesen, neo-baroque was in demand, with the emphasis more on high tones. "The acoustics of the Auditorium are also not ideal for an organ, because they are usually located in churches or concert halls, where they come into their own. But you can manipulate the acoustics electronically, which makes the sound better. We were just looking at that before corona broke out, but it has been at a standstill due to the pandemic."
Unique combination
All those ifs and buts make Cas Mous, master's student of Applied Physics who plays trumpet with wind orchestra Auletes, no less enthusiastic about the concert that will be performed next Sunday, March 12. "I too was fascinated by that organ in the Auditorium for years and I was very curious about what it would sound like. That wish is now coming true because of this unique combination," says Mous. "Unique because an organ usually plays solo or together with a symphony orchestra. As far as Gerrit and I know, this is the first time that the TU/e organ has been paired with a wind orchestra."
Kroesen believes that a wind orchestra is the ideal group of musicians "who can appropriately counterbalance the power of an organ. We recently heard that during the dress rehearsal." See the video below. Mous: "That was also very instructive for us because we noticed that the musicians of the wind orchestra have to adapt to that interplay with an organ. But we're definitely up to it."
Joy of playing
Kroesen is very pleased with the joy of playing that the members of Auletes radiate. "In this orchestra there are very good musicians, and they listen to each other well." Mous adds: "Those who sit in the first seat are indeed excellent musicians, but the rest of the orchestra also makes a very solid contribution. Because we are an orchestra where everyone can come and play, regardless of the level you are at with your instrument. And from our motto 'Without a drink no sound' you can see that conviviality is also an important factor for us."
Then one more fun fact that should not go unmentioned. After all, how can conductor Jos van de Braak, who will be in front of the orchestra on Sunday, also give his directions to organist Jan Verschuren? After all, Verschuren is bent over his keys above the Subway stall. Kroesen: "This is done via a camera connection, where the camera is focused on the conductor and the organist looks at a screen. However, when using modern digital cameras, it turned out that there was a delay in the display of the image of many tens of milliseconds, which threatened to cause confusion. From the basement of the Auditorium, a facility support employee managed to turn up a fifty-year-old analog camera with matching coaxial cable, which does not cause any delay and so that it will be nicely synchronized next Sunday."
On the program on March 12 are works by Johann Sebastian Bach, Alfred Reed, Camille Saint-Saëns, an arrangement specially written by Christiaan Janssen for the organ concerto by Charles-Marie Widor and a Mozart-inspired jazzy work by Zsolt Gárdonyi, referring to pianist legends such as Erroll Garner, Art Tatum and Oscar Peterson. Students and children under 18 can reserve free 'student tickets', non-students pay 13 euros.