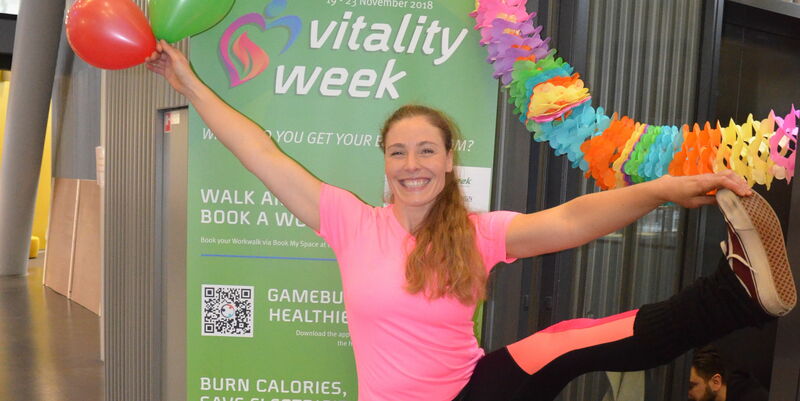 Campus

,

Employee

,

Student

01/03/2023
Vitality Week has a new program
This year's edition of Vitality Week, which starts next Monday, takes place during a different period of the year than before and has a new program, but its purpose stays the same. TU/e students and staff members, with or without a sports card, can participate in more than thirty activities relating to health and vitality. Speeddates with EuFlex, advice from a food coach or a workshop about air quality in the office, the organizers take a broad view of a healthy working environment.
Manon van Lint, who works at the SCC and is responsible for the programming of Vitality Week, made the conscious decision to organize the annual event during a different period of the year. "Normally, we organize the event in November, but that turns out to be a very busy period for both participants and co-organizers. February and March aren't quite that busy, schedule-wise, and it's a good moment to give a new impulse to good intentions." She did her best to take into account the various other activities at TU/e. A good decision, as it turns out, because a large number of students and staff members have found the registration page (which is closed by now).
Incentive
"We no longer want to organize something that won't have a follow-up, meaning no separate lectures anymore," Van Lint says. "Everything is supposed to be a kick-off, an incentive from which students and staff members can continue to work on their wellbeing." An example: "The group 'Health in the built environment' will present a lecture with practical tips on how to improve the quality of the air we breath in the office, or at home. This is part, we believe, of a healthy diet, because you breath more than you eat." Van Lint says that everyone is welcome to attend this first-ever event, even if you haven't registered. "It takes place (Thursday, at 12:15 PM, ed.) in Atlas 4.215, which is a large lecture hall. There are still some seats available."
Another newly added activity is the workshop 'How to read labels.' "Food labels are so complicated these days. Our food coach Yvonne Kinkelder is glad to explain them, so that participants can make a conscious choice for themselves."
Everyone
The health check, a recurring event during Vitality Week for some time now, will no longer have an age limit of 40+ this year. "We feel that everyone has the right to know how healthy they are. I've noticed that the medical tests for measuring body fat, blood pressure, cholesterol and blood sugar, carried out in collaboration with Topsupport of the Sint Anna hospital, are very popular. We have a limited budget, unfortunately, otherwise we could have offered the test to even more people," Van Lint says. Those who didn't manage to secure a health check can go to the Adviesmarkt where they can ask any personal questions they might have. During the tests in the SSC, a physiotherapist, fitness instructor, the above-mentioned food coach and a sleeping coach will also be present on Thursday, as well as a sports doctor, of all whom offer customized advice.
Relax
The Student Sports Centre doesn't just have much to offer to students, but to staff members as well, Van Lint stresses. During Vitality Week, they can acquaint themselves, without any commitment, to activities aimed at improving mental health, such as Pilates, Meditation Yoga, Yin Yoga and Krav Maga. The Mindfulness break and Just Dance will be organized by partners of Vitality Week.
People who want to continue to feel satisfied about their career path, or who want to start feeling satisfied, can attend speedcoach sessions with Euflex employees. These sessions are fully booked already, just like the health sessions. "During these one-on-one meetings, people can take a closer look at their careers, or their personal growth."
Fitbreak on tour
The SSC's wish to become more visible to campus users will also be addressed during Vitality Week. The fitbreak, which usually takes place via Teams, will now be offered in workplaces. On Monday, for example, it will be possible to take part in a fifteen-minute stretching exercise, together with a group of fellow TU/e students or staff members, in Plaza at Vertigo. "Sports clothes or a good physical shape won't be necessary, it's simply fun and useful," Van Lint says. She would be glad to look into any as of yet unconsidered opportunities in case someone didn't register on time. "Don't hesitate to email me."