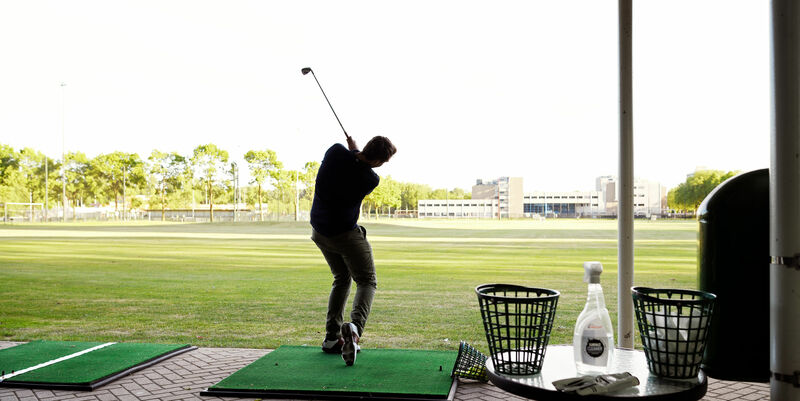 Campus

,

Student

14/03/2023
VVD faction: 'Let the TU/e golf course make way for student housing'
Eindhoven's VVD faction this evening proposed a motion calling on the municipality and TU/e to start a dialogue about the golf course at sports park De Hondsheuvels. The golf course, the VVD believes, must make way for new student housing because, they say, the increasing shortage of student rooms is due in part to the rising intake of international students at TU/e and the university's pursuit of significant growth. Wim Koch, director of the Student Sports Centre, called the plan "utterly nonsensical".
Update: The motion by the VVD faction received no support from other parties yesterday evening, March 14th. According to a report in the Eindhovens Dagblad newspaper, city councilor Niels Groot (CDA) wondered whether it is customary for a political party to decide whether someone else's land should become the site of a residential development. It is worth noting that back in 2019 Groot himself argued on the Cursor website that TU/e and Fontys should throw open their campuses to student housing. Patrick van Tuijn, party chair of PvdA Eindhoven, spoke up in support of the current users of the site: golf association De Club and volleyball association Hajraa.
---
According to the VVD faction on the city council, Eindhoven has a large and still growing shortage of student rooms. This shortage, says Hilko Werkman, VVD committee member, now stands at some 1500 housing units, while in recent years new student housing possibilities have been subject to ever more restrictions. Despite this growing room shortage, for years now TU/e has, says Werkman, been committed to recruiting more (foreign) students, and last year the university pronounced its ambition to grow substantially in the coming years; to make the leap in scale, as it has become known.
TU/e's role
In view of this, the VVD faction believes that TU/e must play a greater role in reducing the room shortage. In the motion (only in Dutch) proposed during this evening's meeting of the city council, the VVD called on the municipal executive to investigate jointly with TU/e the various possibilities of building student housing on the site currently occupied by the Student Sports Centre's golf course. It's a big site, some two to three hectares, situated to the north of the Sports Centre and across the street from the campus, on the other side of the Onze Lieve Vrouwestraat. Among its other roles, for more than twenty years, the golf course has been home to student golf association De Club, whose website reveals the association currently has 146 members.
Asked why the VVD of all parties is keen to sacrifice a golf course to create more student accommodation, Werkman said: "Even our left-wing friends on the council initially greeted our motion with amusement. But our faction believes that the room shortage is a considerable civic problem for Eindhoven, and is a problem that will only grow in future, and that this problem far outweighs the interests of a student sports association that uses a large site close to the university twice a week." According to Werkman, it would be a topsy-turvy world if the left-wing parties on the council were to vote this evening against the motion.
Nonsensical plan
Wim Koch, director of the Student Sports Centre, says that he is not aware of the motion, but immediately describes it as an "utterly nonsensical plan". According to Koch, the sports center owns the site and De Club is certainly not the golf course's only user. "It's also used every day of the week by Golf Center Eindhoven, a non-profit that falls under the sports center," says Koch. "It has a membership of 300. They come along and practice and we hold events there, like clinics for schools. It's a very popular golf course with these groups, there's a lot going on there, and with spring here, these activities are now starting up again."
Koch says that the motion's proposers were badly informed about the actual situation and calls the proposal a case of "playing to the gallery". Likewise, that the site is clearly designated for sports use has also been overlooked, he says. "In addition to all this, if this spot were to be built on, it would deal the Hajraa grass volleyball tournament a fatal blow - a very successful event that draws a great many students every year and greatly benefits the whole city. So, no, this will never happen."
De Club
Mark van der Velden, student of Industrial Engineering and Management Sciences, and president of De Club, says that if the golf course were to have to make way for student housing at some point, it obviously wouldn't be ideal for his association. "It's our home turf, where we practice on Mondays and Wednesday, and it's also the ideal location for introducing students who are interested in golf to the game for the first time. This is better done here than at, say, De Gulbergen golf club, where we play our matches. The biggest plus, of course, is that our golf course is right beside the campus; it's a twenty-minute cycle to De Gulbergen."
But viewed as a possible site for student housing, the golf course has certain points to recommend it, he understands that. "Yes, sure, it's a big problem in Eindhoven, and one I've experienced myself when looking for a room, so you have to weigh up these opposing interests. As an association, we'd survive [the loss], but it would make it harder to recruit new members. It would be nice if a compromise could be found." He can envisage one possibility: the construction of an indoor golf facility, perhaps near the sports center, but whether this a realistic option, he can't say.
Hajraa
As Koch has already said, the proposed change would undoubtedly pose a major problem for student volleyball association Hajraa. Each year in June the golf course is used by Hajraa to hold its annual international volleyball tournament, in which some five thousand students take part. Then, the golf course accommodates a great many of the hundred courts that are needed (see the photo below).
The news of the motion took Hajraa president Joppe Wiegers, Fontys student of Applied Mathematics somewhat by surprise. "Neither I nor the current board knew anything of this, but if the golf course were to be unavailable in the future, the impact on our grass tournament would be huge. As far as I know, it's where we set up thirty to forty courts. As president, I'll be organizing the event for the first time this year. I've already heard from my predecessors that they often had to bring forward the deadline for signing up - such was the enthusiasm for take parting in our tournament - because there isn't any capacity for further growth in terms of participant numbers. So we're already at our limits, and we don't have any options for moving to other sites. So if this were to ever happen, Hajraa would have a problem, absolutely." VVD committee member Werkman is familiar with the tournament and says he thinks it is a "great annual event ", but in this case as in others, he believes that opposing interests must be weighed up against each other.
Read on below the photo.
The VVD faction thinks the golf course could accommodate a couple of hundred student homes and this evening in their motion they are arguing that the importance of student accommodation outweighs that of a student golf course. Any agreements their motion might give rise to would have to be laid down in the Student Housing Covenant, drawn up two years ago and now due for review, say the VVD faction. Various parties are signatory to the covenant, among them TU/e.
Under the covenant it was originally agreed that 2840 new student homes would be realized by 2028. Werkman: "The decision to review the covenant before the end of 2022 was taken right at its signing. But that review still hasn't happened and we so we want to know from the responsible councilor, Mieke Verhees, when it will take place. In view of the all the developments over the past two years in the housing market and concerning the increase in student numbers, this review is very much needed."