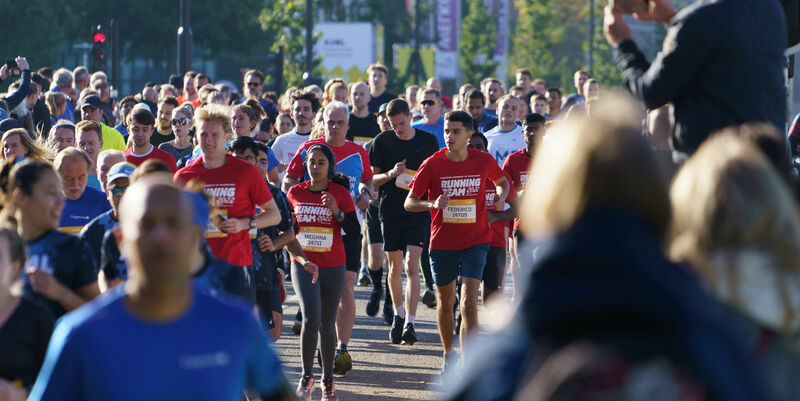 The University

,

Sports

14/09/2023
More TU/e runners at the marathon again
On Sunday, October 8, hundreds of runners in red TU/e shirts will once again participate in the various distances of the Eindhoven Marathon. "The TU/e Running Team grows with each edition," says Joyce Schonenburg of the Student Sports Center. Currently, the only TU/e starting tickets (with discount) still available are the ones for the 5-kilometer City Run. Whether Rector Silvia Lenaerts - who regularly runs marathons - will also appear at the starting line remains uncertain.
Since the Beursgebouw is no longer available, the MetaForum building on the TU/e campus is open every year during the marathon weekend for participants to pick up their starting tickets there. Another part of the cooperation between the ASML Marathon Eindhoven and TU/e is the TU/e Running Team.
"We offer starting tickets for various distances at a discount of about 50 percent," says Joyce Schonenburg, hospitality manager of the Student Sports Center SSCE, "and interest in this has been growing with each edition."
Dynamo
For the full marathon, TU/e got to offer nineteen coveted starting tickets at a discount this year. In total, four hundred starting tickets were offered for the other distances. Schonenburg: "All slots for the full, half and quarter marathon are now taken. However, there are still slots available for the five-kilometer City Run."
Registration for the TU/e Running Team is open until September 28. Those who would like to run in a special Running Team shirt must register earlier: no later than September 18. The shirts can also be purchased separately, for 7.50 euros.
Continue reading below the photo
Just like last year, Dynamo will serve as the home base for the TU/e runners. They can pick up their starting ticket there on Sunday (instead of at MetaForum). There is also a changing area, a place to drop off belongings and an opportunity to get a sports massage afterwards. "The location of Dynamo is ideal: between the finish on Vestdijk, and Stratumseind," says Schonenburg.
Rector
Of course, the big question now is: will Silvia Lenaerts also participate in the Eindhoven Marathon? And will she run the full 42.195 kilometers? After all, TU/e's new Rector Magnificus enjoys running long distances, including an average of two marathons a year - as we read in the bio for this interview.
When asked, Lenaerts unfortunately cannot give us a definitive answer: she has not been able to train sufficiently due to her busy schedule and last week's extreme temperatures. If she does manage to do some running next weekend, and if she is happy with her performance, she promises to participate. "Most definitely in a TU/e T-shirt."