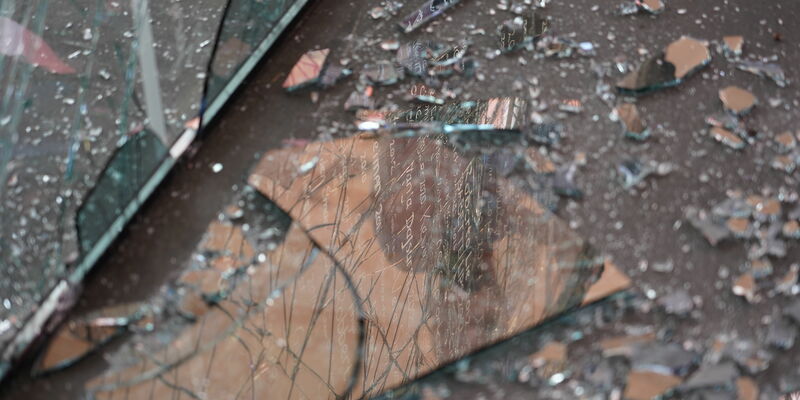 Broken window Alumni Avenue
On Friday, a forklift accidentally drove into one of the window panes of Alumni Avenue. The window, upon which more than a hundred names of graduated master's students had been engraved, was badly cracked and has been removed from the walkway between the Metaforum and Matrix buildings. The university is now contacting the affected graduates.
A damaged piece of glass lies on the floor in MetaForum; between the cracks, you can read the names of TU/e graduates. The scene looks more extreme than what actually happened: during preparations for the ASML Marathon, a forklift simply drove into the window, causing substantial cracks in the corner of the pane. During removal, the glass broke in other places as well.
Edith Snelders of Alumni Relations is standing next to the window, making a note on her phone of all the names which, fortunately, can all still be read. Above all, she is relieved that no one was hurt. "Immediately, there are all kinds of rumors that are going around among people who see all this broken glass; some of them think that the window fell out of the walkway in its entirety", says Snelders. That is not the case, but unfortunately, the glass pane is badly damaged.
Restoration
Exactly how the window might be restored to its former state, she cannot yet say. One passerby suggests scanning the names and engraving them as an exact copy in a new window pane. Another thinks it would be a better plan to have all the alumni come back to re-engrave their names. Another suggestion is to use photos to create a replica by means of sandblasting. There is no shortage of ideas.
What is certain is that the affected alumni will all be contacted personally, Snelders says. "We're going to explore innovative solutions worthy of TU/e." The walkway remains accessible; in the meantime, a wooden board has been put in place of the fallen window pane.