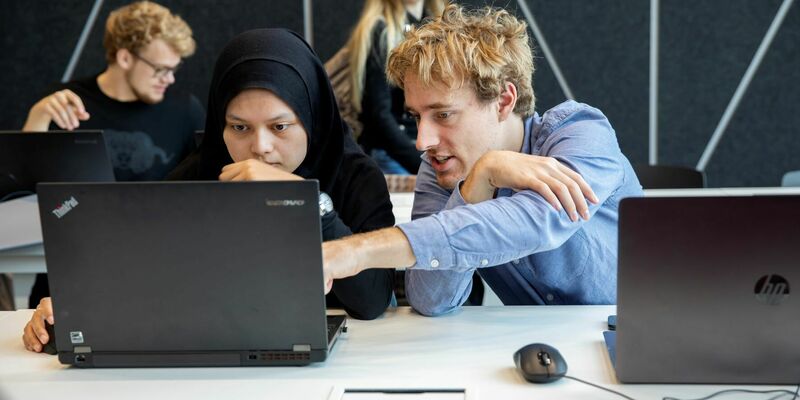 The University

12/09/2022
Special attention for internationals during Diversity Week
Diversity Week is coming around again – from October 4 through 11 – and this year there will be a special workshop to improve the bond between Dutch and international students. New students have to deal with so much that is unfamiliar, so an introduction to student life will also figure strongly. This is especially true for internationals, who often find that student life here is unlike what they have been used to back home.
The workshop is entitled 'How to uni' and it is organized by Thor, the study association belonging to Electrical Engineering. Norine Rijksen of Thor is responsible for well-being within the study association and is closely involved in the organization. "We have developed a varied workshop program. One element will be lunch, and it will be more than just a meal. We are using easy recipes that we have bound into a booklet and will be giving away to the students. A lot of students aren't just coming to uni for the first time, they are suddenly living alone and having to do things for themselves, like cook. It can be a great boon to find out early on cooking doesn't have to be difficult. We'll also be doing things like playing charades with typical student words, so that they are familiar with them from day one. And we'll be going on a scavenger hunt through their new student city."
"The decision to wait until the end of the day before having a drink in Het Walhalla (Thor's bar on campus, in Flux, ed.) is a deliberate one. By then, they'll know each other a little and we can take the opportunity to explain the bar rules. They are a bit different from those in your average cafe. In any event, it's never a good idea to sit with your back to the bar. Come along to the workshop and find out why…" Are you interested in making friends with your fellow (international) students, or perhaps you feel like jumping straight into your new student life? The workshop is being held on Wednesday October 5th. If you are keen to sign up or would like more information, get in touch with Thor. By the way, the bar is also open to non-members who want a drink, so if you're a non-member and keen to find out for yourself why you shouldn't sit with your back to the bar, come along.
Reflection of the student community
It is still the case that in many study associations the majority of members are Dutch, and the same is true of their boards. But more and more foreign students are coming to TU/e. Thor is keen to see this diversity in the student community reflected in its own association, and it is working in various ways to bring this about, among them this workshop. "We've now got an international student on the board, too. It's not easy, for him or for us: a lot of things are in Dutch, so you have to make a conscious effort to handle more matters in English. But it does mean you soon get to learn about each other's background and culture, and it makes you more aware that you are studying in an international environment," says Rijksen.
Lara Hofstra, diversity officer and Diversity Week organizer, is enthusiastic about the upcoming activities. "We have planned a whole week of fun things. We'll be starting on October 4th with a scrumptious breakfast and the play 'Time Out', the student version of Mindlab. Our last day will be October 11th, and with good reason: that is Coming Out Day. It's a day of increased awareness and support for people who want to 'come out' about their sexual orientation or gender identity." This year Hofstra is keen to put added emphasis on the fact that diversity is not only about sexual preference or gender diversity. "It is much broader than that. To my mind, cultural background is another area it encompasses. For example, setting boundaries in terms of social safety may take different forms, depending on people's cultural backgrounds. Diversity Week is a good opportunity to learn from each other, and by doing so, to understand each other better." The full program for Diversity Week will be announced soon.