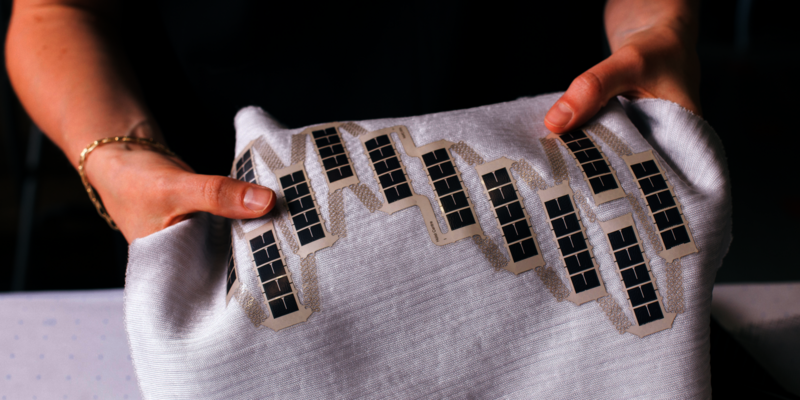 "I want to make solar technology soft"
Bringing people closer to the sun – that is the aim of the Solar Biennale. Co-founder Pauline van Dongen, who obtained her doctorate at TU/e and worked there as a postdoc, has also described the event as a manifestation and an "ode to the sun". Through exhibitions, projects and Solar Labs – including one in Eindhoven – she wants to start a movement that has a different perspective on the sun. "We want to shift the focus from the technocratic to the cultural level."
When it comes to solar energy, the talk is often about technology, money and payback periods. But in reality, solar energy is about the well-being of people and the earth, Van Dongen says. "We're stuck in that rhetoric and we need to break through it." In order to do so, she and Marjan van Aubel have initiated The Solar Biennale. The event is meant to inform and inspire people. "We want to put solar design on the map as a discipline."
According to Van Dongen, there is a lot of potential in the field of solar technology, especially when it comes to its application in different materials. For example, there are solar cells in the form of thin, flexible foil and even beads. "You might even be able to print solar cells on textiles in the future." These are the kinds of techniques that she applies in her work as a fashion designer and that she researched during her doctoral period and as a postdoc at Industrial Design.
Solar Lab
An important part of her research is the relation between humans and technology: "Clothing mediates between your body and the environment." That very theme will be discussed during the Solar Lab in Eindhoven. Over the course of a four-day workshop, which will take place from September 26 to 29 at the New Order of Fashion lab in Strijp-S, the participants will explore "embodied interactions" with solar energy and how to make the technology 'soft, tactile and inviting.' They will do so through lectures, workshops and assignments.
Every day, an expert will come in for a visit, and one of them is Angella Mackey, who also obtained her doctorate at TU/e. Van Dongen: "She's doing auto etnographic research into solar energy. She has been charging her phone with portable solar cells for months now. We will learn from her and are going to explore ourselves what it means to 'live' solar power. How does that affect your relationship with energy, the sun and your environment? For example, you might go outside more often in order to charge. Maybe you spend more time on benches in the park, which in turn leads to social interactions."
Materials
The participants will also get to work in the lab themselves, with a focus on materiality. "Solar panels are typically smooth, shiny, big, hard and rigid. In the lab, people are going to come up with ideas for new materials." The focus is not just on what the material looks like", Van Dongen emphasizes, but also on how it feels, tastes and sounds. "All the senses are to be involved in the design." If all goes well, the project will result in a sort of prototype that can be tested on the body and in space.
"The Personal Lab is important to help shape the energy transition", says Van Dongen. "That is a very big and abstract idea for many people. You have to start from your own relationship with energy. Beyond the standard solar panels, there is a whole world out there to discover." According to her, the lab is interesting for students and professionals from a technology background, but for designers as well. It's a place where we can bring those two perspectives closer together.
Sharing is caring
In her own work, technology and design are already interwoven. That does not mean she has all the technological know-how to develop all the new applications of solar energy herself. "I'm not an engineer. That's why I am collaborating with all kinds of organizations and people for the technical side. Working together allows me to realize my ideas."
It is not a coincidence that one of the points in their founders' manifesto is called Sharing is Caring, Van Dongen says. She hopes that they will bring designers and engineers closer together. "For example, a designer might come up with an idea that may not make the most sense to an engineer. But it would be nice if that engineer would still be open to it and want to explore it., and vice versa. We shouldn't just look at how much energy the technology generates for us, but also at what it does to the user."
You can still sign up for the lab via this link. Results and insights will be discussed during the Dutch Design Week at the Solar Pavilion on Ketelhuisplein.