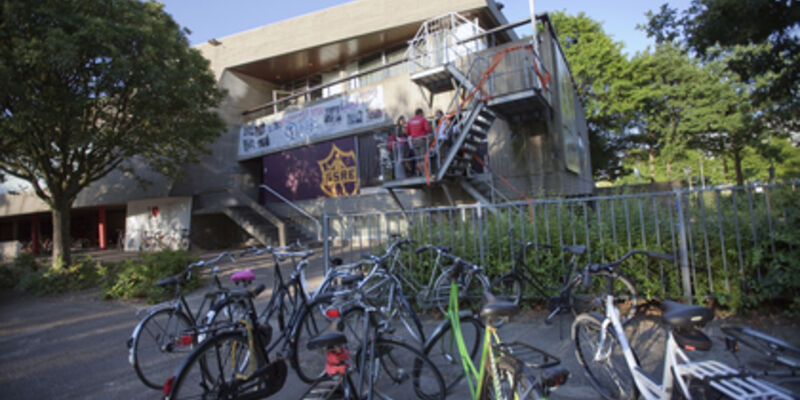 From Friday, February 1, Cosmos an be found in MetaForum. Room MF 0.090, to be exact. Chairwoman and student of Industrial Design Jacky Janes is pleased with their new spot. "I think there will be more students coming over during the day here than they did when we were still located at the Bunker. We have great facilities, including a kitchen."
Cosmos will definitely be missing their Bunker bar. Janes: "And we'll have to start looking for a place to host bigger events. One of their options is De Oude Rechtbank (the old court) at Stratumseind in the city center, a venue that's popular for their events aimed at expats and international students already." The association, which was founded late 2012, will be giving a 'house warming' at their new location on Friday, February 22 – possibly coinciding with the festive inauguration of the new committee.
From this Friday onwards, Tint will be renting a large garret with kitchen and living room at the Nachtegaallaan close to the city center. The new location will come to serve as a meeting place. "We wanted to be close to young people and be easy to reach, and this way, that's exactly what we are," says Tint student assistant Heather Donaldson. "Since we often cook our own dinners, we decided to opt for a place with a kitchen." The association office will remain located at Connecter 1.38 (the former TeMa building).
Donaldson is sad Tint had to leave the Bunker on January 1. "It's been a great place to meet people, because all associations were located there. The atmosphere's been great. We decided to leave early because this location was more appealing financially than the Bunker."
The foundation is yet unsure how long they will stay on the Nachtegaallaan. Heather: "We're here until the end of the academic year for sure. By that time, we'll evaluate our activities like the workshops and decide whether we want to stay or rather look for something else."
Next Friday will see Tint's first activity at their new location: a carnival-themed 'eat & meet'. The foundation will serve a meal and afterwards guests will discuss the ways carnival is celebrated throughout the world. Everyone who pays an admission fee (€7.50 for students, and €10 for non-students) and signs up beforehand via info@tint-eindhoven.nl is welcome to attend.
All associations have to leave the Bunker before the end of 2015. It's yet unsure what will happen to the building after that. The social students associations will be moving to the city center, the cultural association will be accommodated on campus. ESC is currently busy renovating their new home in the city center, and SSRE and Demos are still in search of a new clubhouse. Real Estate Management is still working on a plan for locating the cultural associations. Options are said to include Potentiaal.