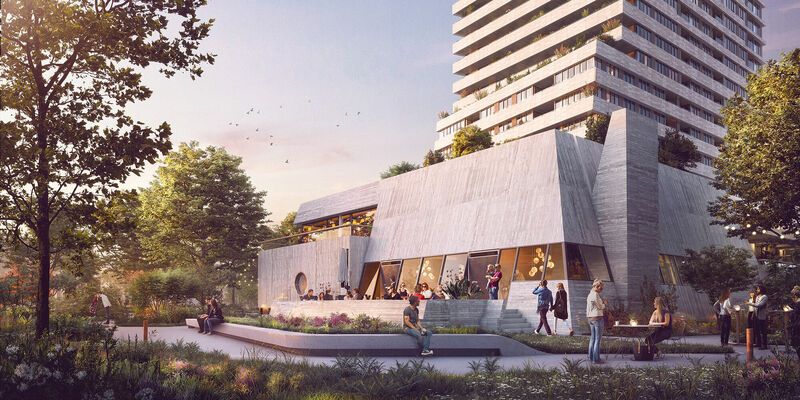 Finally living above the Bunker Bar
Very much interested and hoping for a place in the future apartment block is an apt description of the guests at the pre-sale meeting held Thursday evening and organized by the developers of the BunkerToren. Most are more familiar with the exterior of the Bunker than its interior. The odd one or two have previously seen the inside of the Bunker Bar, but nostalgia is not their motivation for wanting to live here. They like the location, the modern look and the attention paid to sustainability.
In the Lichttoren those here for the viewing get a bite to eat, a drink, a talk by the architect and - a smart move - the title VIP. This means that come September, when the sale of the apartments in the BunkerToren officially gets underway, they will have priority over anyone who shows interest only at that stage. There will be 85 homes for sale (and 127 available to rent) in the 32-storey apartment building. The ground floor will house offices, below that a car park, and on the first floor a grand café.
"Rising out of the iconic Bunker there will be a slender tower, marking the entrance to the city," says architect Nanne de Ru of Powerhouse Company. "Although the same color as concrete, the building material will be stone and it will have better properties that prevent it getting dirty. The new tower will have the same rugged, solid look as the Bunker received at the hands of the architect Maaskant." The way the developers at Being Development and RED Company see it, the BunkerToren will become Eindhoven's new icon.
Prospective buyer Julian van Dijken (32) has been watching the housing market for years. He is looking for an apartment with an industrial look. "Strijp-S has some nice buildings but the properties are mostly rentals, or only become available to buy after a number of years of renting. I expect this BunkerToren will sell out quickly." Van Dijken grew up near the lake at Karpendonk and has cycled across the TU/e's campus countless times. But he has been in the Bunker only once, midway through the 1990s. "I once ate in the student cafeteria. I was still a young boy and I went there with a cousin."
Starting a family
The location of the BunkerToren is the main attraction for most of the applicants. Likewise Hugo van Deurssen. "It's perfectly situated near the center and has access to main roads. But it is also located between the towns where I and my girlfriend were born: Deurne and Bergeijk. I like living in the city now; there is always something to do." He hopes that buying a home will be a cheaper option in the long run than living in his present rental apparent in the Strijp-S neighborhood. "That is a modern flat measuring 100 square meters. I'm paying 1200 euros rent for it, excluding utilities. I would be keen to buy a place in the BunkerToren provided I don't end up with less floor space and there's a balcony. If I can get that, then an apartment in the city would be great at this stage of my life. We're what they call 'young professionals'. Yes, I'm on to my second job." Later Van Deurssen would like to return to a village like Bergeijk. "Preferably somewhere without traffic lights. But before then I'd like to live in the BunkerToren and start a family with my girlfriend."