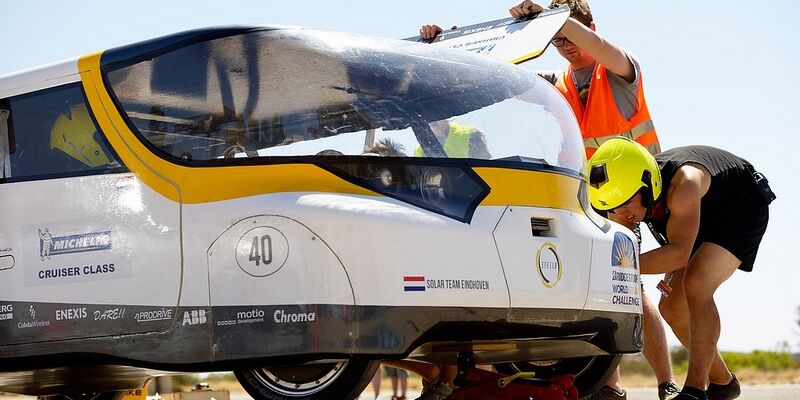 Tough luck for Stella, but it's ok
During today's fourth heat, Solar Team Eindhoven (STE) suffered a minor setback for the first time during the World Solar Challenge. Stella had to pull over for a new tire, and the team had to fix a cable. It was partly due to this delay that the Eindhoven solar car finished behind direct competition Germany and Australia. But because Stella raced with four passengers, STE is still the best team in the virtual overall ranking.
According to Team Manager Lex Hoefsloot of STE, Stella came in fifteen minutes after the German team from Bochum. Unfortunately, the Australian team finished over an hour earlier. As far as time ranking is concerned, the three teams are pretty much tied. Hoefsloot isn't worried about time, though. "Once again, we raced with more passengers on board than any of the other teams today and that's a very important factor. Before the race started, we didn't expect to be the fastest team at all, but we're faster than we thought. Today, we had anticipated an average speed of 75 km/h, but we reached 85. We're really pleased."
More pictures can be found here.