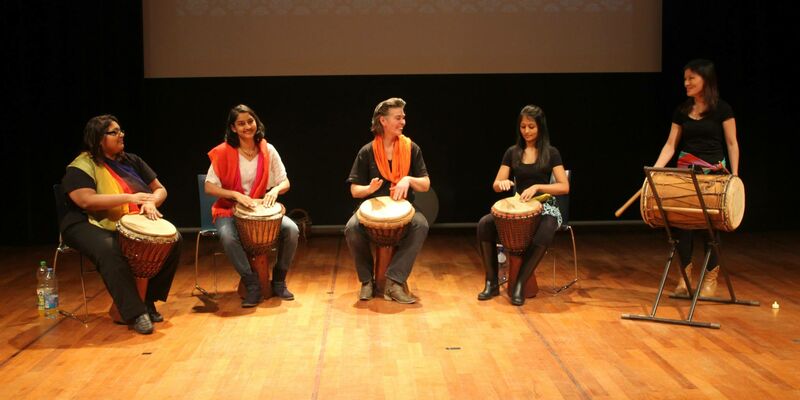 'A happy wife is a happy life'
Last Friday, TU/e hosted an event in light of the Get in Touch program, which was graced by an international dance, percussion, and personal stories. The program, meant for partners of international employees, arranges joint activities – and it's a success. A film about the program was just completed and will be used for the recruitment of new employees all over the world.
If you want to keep your international employees, you better make sure their partners enjoy their stay here as well. Personnel and Organization (DPO) learnt that several years ago, says DPO internationalization employee Willem van Hoorn in his opening speech in De Blauwe Zaal. To make that work, Carola Eijsenring of Indigo-Wereld and TU/e developed the program Get in Touch with People & Places in Eindhoven, and its first activities were organized in 2011.
Partners get together more or less weekly to visit the Van Abbe Museum, or celebrate Sinterklaas, for example. Recently, a dance group was founded as well. Eijsenring: "Sometimes, they decide on the activity themselves. We get them in touch with each other. You don't have to take them by the hand, obviously, but they do appreciate the support."
Partners as well as employees are very happy with the program. Irem Bezcioglu Goktolga from Turkey has been in the Netherlands for a few months now, and she says the Get in Touch program is the best thing that's happened to her so far. "I felt pretty lonely, and it's great to be in touch with people who know how you feel because they feel the same way." Seda Algın Başkurt, also from Turkey, is excited about the program as well. "It's a good way top meet different people." And employees are satisfied, too. As a man from Iran jokingly put it last Friday: "A happy wife is a happy life".
For an impression of the program, watch the film that will also be used for recruiting.