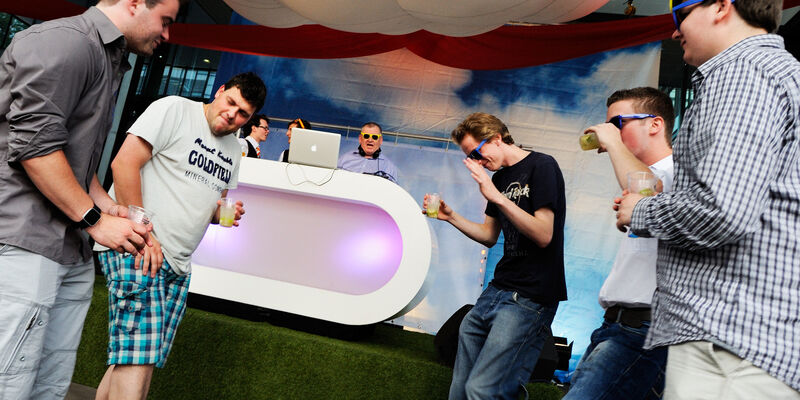 Student

,

Campus

07/05/2014
Closing party to be Eindhoven-wide student party
The TU/e closing party that marks the end of the academic year on Friday, July 4, is supposed to be an Eindhoven-wide student party. Students of Fontys, the design Academy, and Summa College are cordially invited to join in the fun. Among those who will share their musical preferences are TU/e Rector Hans van Duijn, and Nienke Meijer, chairwoman of the Executive Board at Fontys.
The party starts with the awards ceremony for the Academic Year Prizes on Friday at 4PM. Awards will be presented to the best graduate, best designer, and best PhD candidate at TU/e. The main act 'Professors on Stage' will kick off at 6PM, says Mark van Esdonk, chairman of the Eindhoven Student Corps committee that organizes the closing party. Apart from TU/e professors and lecturers, this year will also see Fontys teachers playing tunes for the party crowd.
The lineup for TU/e has been announced already: Rector Hans van Duijn, Professor Berry Eggen (Industrial Design), and assistant professor Richard Engelen (Applied Physics), Arno Pronk (Built Environment), Pieter van Gorp (Industrial Engineering & Innovation Sciences), and Kees Huizing (Mathematics & Computer Science) will perform as DJs. Lucas Asselbergs, head of Studium Generale, will also allow a sneak peek into his musical soul. Fontys chairwoman Nienke Meijer will also perform, along with some teachers from her institute.
According to Van Esdonk, the closing party is promoted more explicitly at other institutes this year. "We wanted to do so in 2013 already, but that didn't really work out", says Van Esdonk. "We'd like to involve our foreign students more this year as well."
This year's theme is Australia, which shows from the stage that's modeled after the well-known Sydney Opera House. There will also be a barbecue for everyone to fox their own meal.
After the celebration, the party will continue at ESC in the city center. Their after party starts at 11PM.