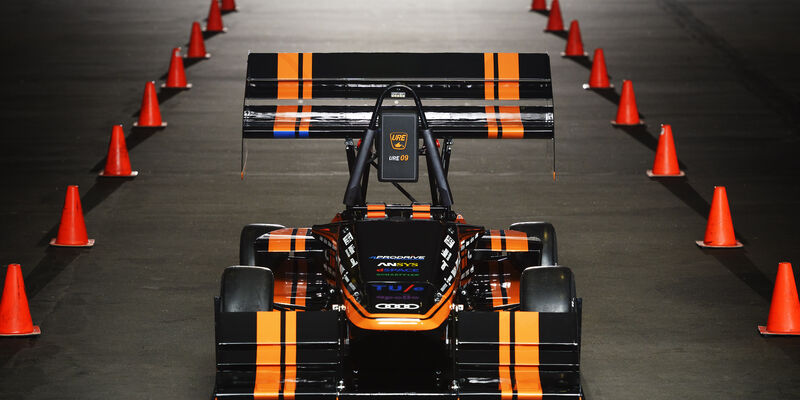 Student

,

Campus

29/05/2014
URE hopes to have best two-wheel-drive racecar
URE09 will be vying for the title best two-wheel-drive racecar in the Formula Student competition. Last Wednesday night, University Racing Eindhoven (URE) presented their latest black shiny racing pearl in the MetaForum market hall. Team manager Bart Kienhuis says URE09 should be able to make it into the top five of the overall ranking.
URE09 has been constructed at TU/e mostly, including the monocoque (i.e. the chassis) and all carbon parts. Complex metal parts were milled and redacted at the Equipment & Prototype Center. TU/e supports the team by funding manpower and materials.
The monocoque was made from the same mold as URE08, which made it possible to test the set of wings -one of the more striking new features of URE09- on the previous model. The wings make sure that air flowing past the car is pushed down. Said downforce improves road grip, which is an important aspect for the team - more so than, say, speed. Still, URE09 should be able to reach 130 km/h easily, according to Kienhuis.
Over the next few weeks, the sixty-man team hopes to make lots of test drives in URE09. The first real test is on the Silverstone track in England in early July. The event is the final rehearsal before the actual Formula Student in Germany, which starts July 29, says Kienhuis: "It's our World Cup, really."
The TU/e team won't be competing for first place. For one thing, the two-wheel-drive car is slower than the four-wheel-drive cars that will be racing, says Kienhuis. "But I believe we should be able to make it into the top-five. We want to be the best two-wheel-drive car in the competition, anyway."
Next year, University racing Eindhoven hopes to have their own four-wheel-drive car to race with. Over the past months, several team members have been working on the basics of URE10 in secret - "and more than part-time, too". URE wants to present and test the concept of the new car at Silverstone in July already. Kienhuis says URE10 should be top-three contestant by 2015.