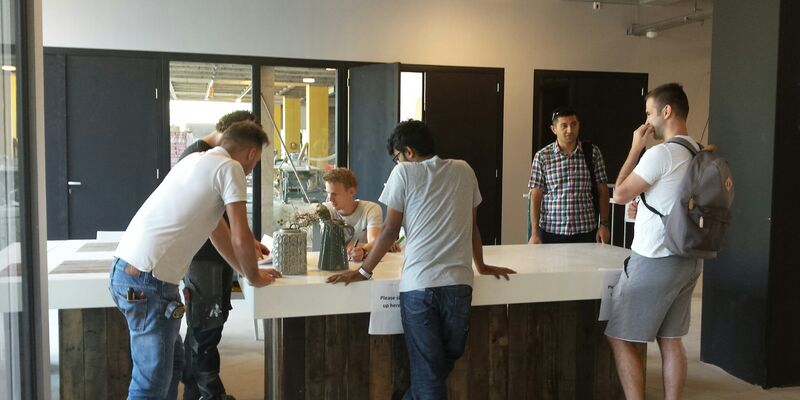 Student

,

Campus

02/09/2016
Residential tower block Luna eighty percent full
Thanks to a special offer for students, whereby the rent for a standard room was reduced by 200 euros, residential tower block Luna still filled up after all. At this moment the building that formerly housed Electrical Engineering has filled up to some eighty percent of its capacity, according to proprietor Camelot. Altogether there will soon be 441 housing units available. At the top there are still several luxurious lofts free and the second and third floors will be completed by the end of this month. The two lowest floors, known as De Plint, are scheduled for completion in November.
A week ago the first residents started moving into Luna. Thus, after Aurora, this was the start of the second accommodation for permanent occupation on the TU/e campus. TU/e and Fontys students and employees, hailing from 27 different countries, were given the keys to their rooms last week. Those rooms will be completed with 'furnishings and fittings'. Camelot Beheer, which operates Luna, says that this term implies 'from corkscrew to toilet role holder and from lounge suite to desk'.
The foreign short stayers in Luna will be offered contracts for a maximum period of 11.5 months. Dutch tenants will be allowed to stay in the tower block for six months at most. Thereby Camelot wants to ensure a continuous flow in the building. Another firm condition is that tenants must have a connection with TU/e or with Fontys, or with institutions or companies located on campus.
Inge Burgmans, marketing employee of Camelot, says that a discount on the rent provided a substantial boost to the increase in tenants. "For students we temporarily set the rent for standard rooms at 399 euros per month, which will be for the whole tenancy period. Normally you would pay 600 euros for such rooms. This action has produced the desired result, for at the moment we have filled the tower block up to eighty percent." Burgmans adds that the action has meanwhile been stopped.
At the end of September the second and third floors will be completed and at the very top some of the luxurious and more spacious lofts have not been rented for now, Burgmans informs us. She explains that those come in the highest price range of some 900 euros. "For that price you do have your own roof terrace as well as a fantastic view of Eindhoven and the surrounding area", according to Burgmans.
Builders are still hard at work to finish the two lowest floors, known as De Plint. Early in 2017 these will accommodate the cultural associations, education areas, the day nursery, a supermarket and possibly Bar Potential, which will be run by students.
TU/e is also looking for a GP who wants to settle here. Anneke Dupont, strategic real estate manager at Real Estate Department of TU/e, says that with Luna and Aurora filled to capacity, more than seven hundred residents will be staying on the campus permanently before long. Dupont: "For them and all the current residents of the campus an out-of-hours GP service may be a welcome facility. This month we are conducting talks with potential candidates."
It is investigated whether surgery hours can be provided and if so, in what way. We are also looking at possibilities for cooperation with the existing primary psychological healthcare provided by the TU/e Education and Student Service Center (STU). "The financing of this business case on the basis of the present healthcare system proves to be quite a challenge", Dupont admits. "If we cannot realize this, the space will be designated for other parties."
Camelot employee Burgmans adds that the problems around paid washing and drying, which cropped up among the residents of Aurora in the past few weeks, are not at issue in Luna. "Here it was said immediately that washing will cost four euros and drying two. We have not received any complaints or questions about that."