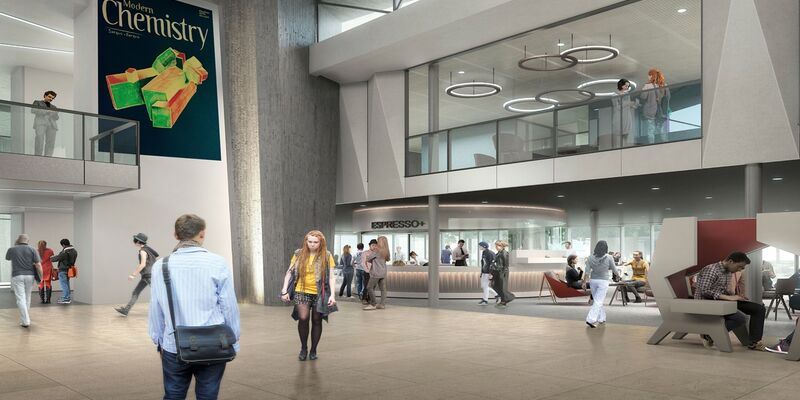 Murals will adorn the walls of Atlas
Artist Gijs Frieling will produce the new artwork for Atlas, the former Main Building that is currently being renovated. With his draft design, Where is science going? he won the commission to produce a phased artwork. The Executive Board has since approved his nomination by the Art Committee.
The Art Committee liked the design produced by Gijs Frieling (1966) for its direct reference to the way that scientific research findings are graphically illustrated. Frieling focused initially on the book covers of scientific publications. He will be painting a number of them life-size on the walls of Atlas.
Bernard Colenbrander, Professor of Architectural History and Theory, and chair of the Art Committee, is charmed by both the chosen subject matter and the technique Frieling will use. "Think of it as criticism of the disappearing book presented in an aesthetic form, and of the fact that increasingly the screen is the only medium by which scientists, like many others, gather information. That he will actually produce the paintings on the walls of Atlas is pretty unique. So this won't be something you can hang on the wall and take down if you don't like it."
Some 15 paintings will be distributed throughout the public parts of the building, and in this way the artist will meet the Art Committee's request for a phased artwork. Frieling himself says that he finds it a very exciting assignment. "It is also a big commission, because I usually produce about three paintings. I wanted to make something that is interesting as an artwork and accessible to employees and students via its relevance to their work."
He is already looking forward to the moment when he and his team will set to work under the watchful eye of Atlas's new residents. Because he will start with painting the murals when the new residents begin working in Atlas at the end of 2018. "Undoubtedly questions will be asked and that is exactly the way to make a work of art accessible to your public."