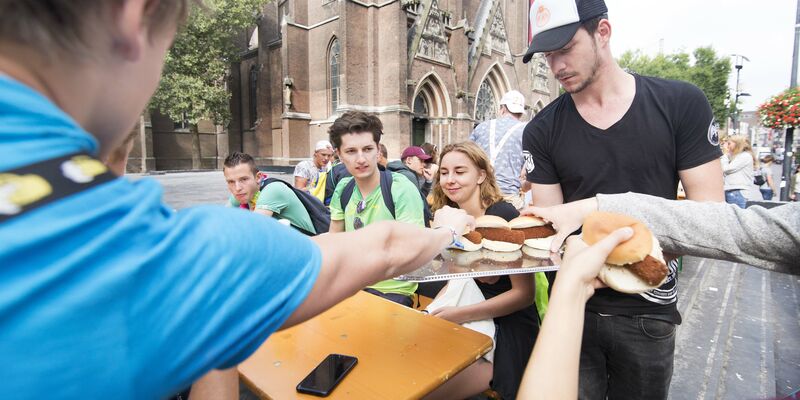 Intro '17 | Brunch in the shade of Saint Catharine's
In harness for three days on a row and then still start the day again where it probably ended merely a few hours before: at Stratumseind. This is reserved only for true diehards, and by all appearances those can be found especially among the Built Environment and Industrial Engineering and Management Science students. At café Spijker the croquette buns are flying out this morning – and they are washed down by more than just glasses of milk.
by
Han Konings
No more efficacious remedy for a hangover than a new beer, is the approach adopted by quite a large number of Intro goers during the brunch at Stratumseind, at the foot of Saint Catharine's church. There are cheese and ham sandwiches, but the most sought-after are the croquette buns. And let us reassure the parents straight away: there is also a big basket of fruit.

Andra from Romania is present as Intro mummy this year, for last year she so much enjoyed the Intro that she wanted to be part of it again this year. So far she has not managed to get a croquette bun yet, which means she has to settle for a cheese sandwich. Yes, after her Bachelor at the Built Environment she is definitely going to do the Master also. She truly enjoys studying and living in Eindhoven. "The atmosphere is considerably more liberal than in my home country and I really like that."

We find Mark from Maastricht with a dazed look in his eyes. He has been having a swell time for three days now, is in a nice group of people from Industrial Engineering and Management Sciences including some from his home province, Brabant and Zeeland. Still, Eindhoven does take some getting used to, because it is just a touch bigger and busier than Maastricht, and he is also surprised at the sheer numbers in his study program. He is eager to get started on it and is not worried about the math at all. "Just keep up nicely and do your assignments, then that will take care of itself", he says like a good boy.

One table further is the rather quiet Kasparas from the Lithuanian capital of Vilnius with three of his Dutch group members. Away from home for the first time, but he does not seem to be bothered by that. "I've just arrived here in Eindhoven and three days is a rather short period to become homesick already." Later this academic year his parents are coming over for a visit. He had to choose between studying in England or the Netherlands and eventually the Brexit clinched it. What did he need to get used to most these first few days? "That bicycles are used for so many things here. We really don't have that many in Lithuania."

The Cuba Industria group is still looking amazingly fresh, although this is partly because the two heaviest consumers of alcoholic beverages are still groggy in their beds. Nonetheless the group show the greatest respect, for in that area the two are really keeping up the prestige of the whole group.
How have they actually come up with this name, is there a special connection with this communist paradise of the Castro family or with the rum? None of that, this year's theme at Industrial Engineering and Management Sciences is 'Explore your boundaries' and this club was allotted Cuba. So that's why.
You just can't get enough? Check Cursor's Facebook, Twitter and Instagram for more photos, news and other Intro updates.