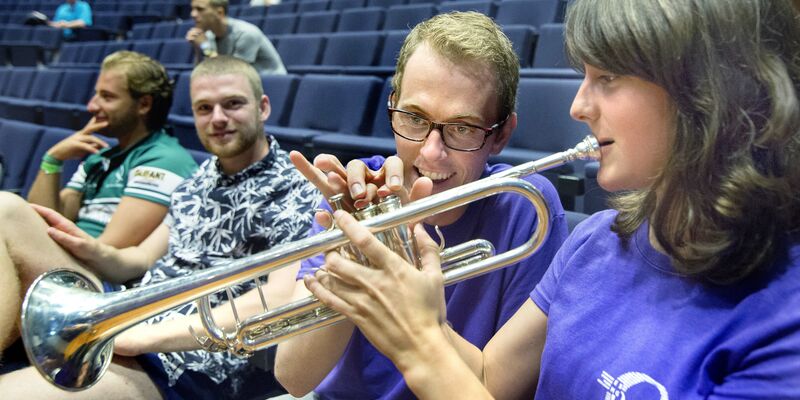 Intro '17 | Fraternization through music
Classical music and jazz - in Eindhoven they are a perfect match. This is proven once again during the workshops on Thursday, when student music societies Quadrivium (classical) and Studentproof (jazz) join forces. Choir singing to get warmed up followed by some jamming with 'Hit the road, Jack'.
The workshop in the Blauwe Zaal opens with some morning gymnastics, for - as workshop leader Renée van Kemenade (Quadrivium) explains to us - singing is a physical activity. After some breathing exercises the participants are expected to hold the 's' sound for twenty seconds. Although you would expect the first Intro goers to go flat out after all the exertions of the past few days, it seems as if a rather vital section of the population of freshers has registered for this workshop.

The joint scales sound better than expected: one could fancy being in a church. Next on the agenda is a piece of French choral singing: a canon. Again this sounds quite nice, although it can be heard that the combination with the French text is a bit of a hurdle.

After the singing, the instruments are taken out of their cases and the participants – supported by some old hands from Studentproof and Quadrivium - get cracking with 'Hit the road, Jack'. Drums, bass, guitar, keyboards, plus all the brass you can think of, whistles, shakers and even the triangle. Six male and female singers have been studying the text in the corridor and enter the Blauwe Zaal for their vocal contribution.

When it is all over, Renée van Kemenade, recently graduated from Architecture, Building and Planning and active within Quadrivium for many years, agrees that relations between her society and Studentproof are excellent. "We have shared our rooms for many years now and several people are even members of both societies. And the workshops can be merged quite well in fact, although it stands to reason that you will always get people who only want to sing or who just want to play an instrument."
You just can't get enough? Check Cursor's Facebook, Twitter and Instagram for more photos, news and other Intro updates.