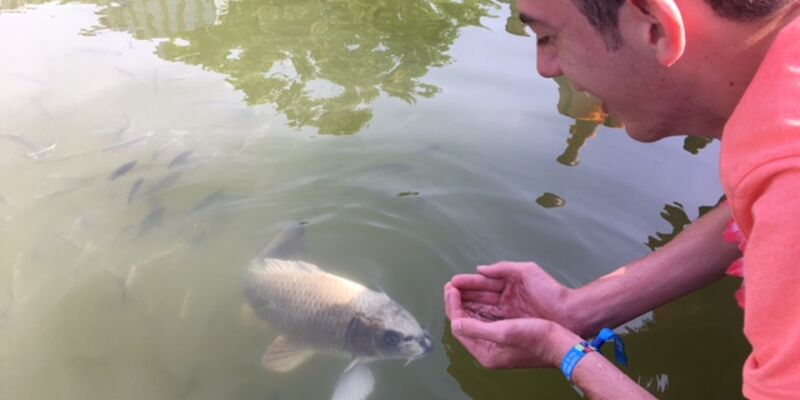 Intro '17 | The 'crazy' fish whisperer
The news is out on the street during the Intro. Or, more accurately, at the edge of the pond on Wednesday afternoon. Group 3 of Applied Physics tried to hook up with - uh, lay its hands on – an evening meal.
by
Brigit Span
No, it was not intended for a nourishing dinner after all, as enquiries in passing confirmed. Still, the intention was definitely to catch a fish, says daddy Wouter of group 3 of Applied Physics. ("What our name is?" Hasty consultation ensues with intro-'mummy' Thomas: "Shall we just go for Tequila Sunrise then?"). Tequila Sunrise it is.
Why are all the kids of this group holding their arms in the pond this afternoon? "It is one of the 88 assignments to be carried out by all the groups of Applied Physics for the Crazy 88 of study association Van Der Waals", Intro daddy Wouter explains.
A cookie brought by the Cursor editor is crumbled in the water as bait for the fish. The hands are hopefully suspended above the water, waiting for any fish to take the bait. He is holding a fish in his hands, if you look carefully. The big carp is also swimming by to take a look.
Other assignments in this very ambitious list are 'hug a policeman', 'ride a shopping cart across the Limbopad' and 'eat a bucketful of chicken from KFC inside McDonald's'. Even though making it to the headlines of the Cursor is not on the list of 88, we still think that Tequila Sunrise has earned an extra feather in its cap!
Especially non-believers are invited to check out the film below: within no time intro kid Timo manages to catch a fish. With his bare hands. They are all going totally crazy at Tequila Sunrise. Good luck with the other assignments, you all!
For those who cannot get enough of the Intro: more photos, news and other updates can be found on Cursor's Facebook page, Twitter and Instagram.