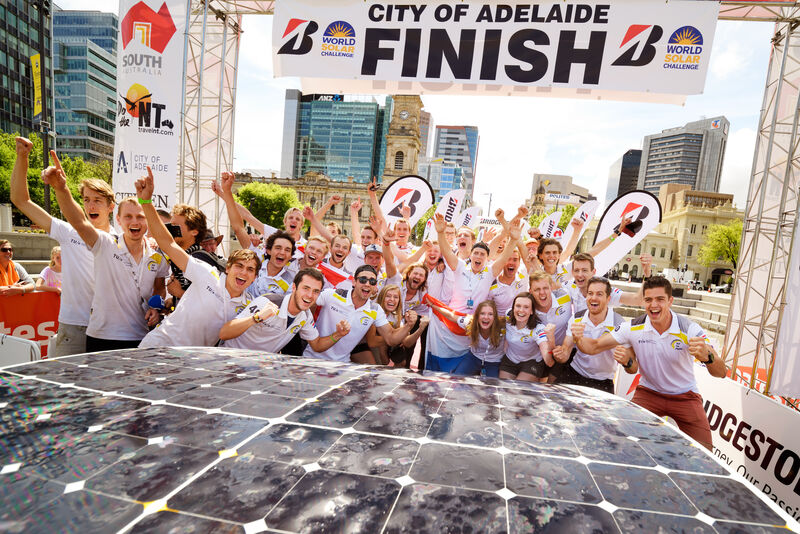 Third world title in the bag for Solar Team Eindhoven
Having driven a convincing race from the start, Solar Team Eindhoven is almost certain to take victory in the Cruiser Class of the Bridgestone World Solar Challenge once again. On Friday the TU/e students and their Stella Vie crossed the finishing line in Adelaide with such a high score for efficiency that Saturday's practicality assessment can do nothing to diminish their leading position.
Stella Vie has spent the past week gliding three thousand kilometers through the Australian outback, from Darwin to Adelaide, seemingly without a care in the world. This despite having had a limited on-site test period due to the late arrival - by no less than three-and-a-half weeks - of their most important materials, including the car itself and the battery.
Not that they have been at all complacent - despite securing a lead early on, stressed team spokesperson Beatrix Bos, still in Coober Pedy, on Wednesday, after the team had completed its fourth, partly rainy day of the World Solar Challenge. "We stayed focused. It only takes one thing to go wrong and you can be out of the challenge."
The unpredictability of the competition - and not only in terms of the weather - became evident less than twenty-four hours later when the TU/e crew had to abandon the race prematurely. While taking the last bend before the checkpoint in Port Augusta, Stella Vie's center console broke off, taking with it the steering wheel, which had been left hanging. Taking no risks, the team decided to stop a half hour early and focus on repairing the console.
The problem turned out to be manageable and the damage had been repaired before nightfall. The team were then able to set course Friday morning for the finish in Adelaide. Stella Vie crossed the finishing line shortly before noon (a little after 5 a.m. Dutch time), as it had done for most of the race, with its full crew of five. Their first shouts on finishing showed their abundant pleasure and pride: "We've done what the Dutch soccer team should have done... world champion!"
The cars participating in the Cruiser Class still have to be assessed for their practicality. This element of the judging, which takes place tomorrow, Saturday October 14, counts towards the final result, but Stella Vie has built such a strong lead these past days for its efficiency, the 'main component', that they have become unreachable for other teams.
Delft became world champion yesterday in the Challenger Class for racing cars. So various changes to the regulations of the World Solar Challenge, which could have meant a shakeup for the class dominated for years by Dutch teams, haven't led to any changes on the winner's rostrum.
The closing ceremony of the Bridgestone World Solar Challenge will be held on Sunday, together with the official awards ceremonies for the various classes.