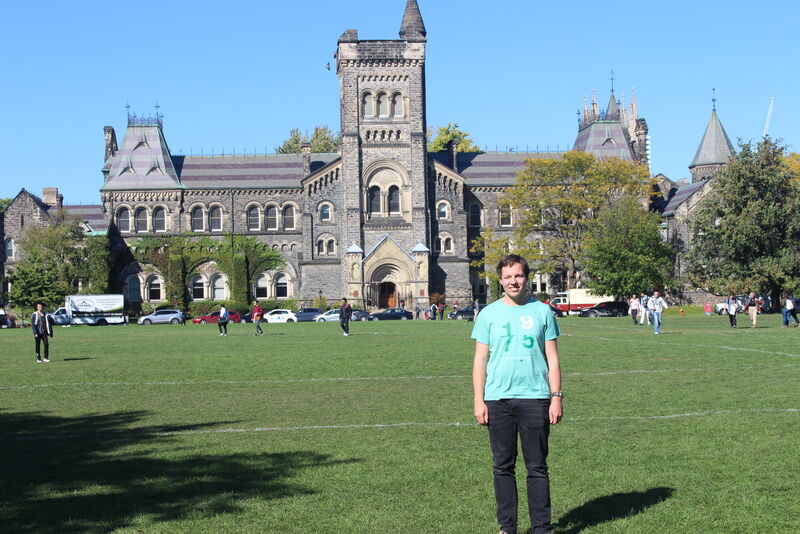 And how are things in Toronto?
When asked if I wanted to do my internship in Toronto, I wasn't immediately sure. I was wondering, what kind of city is Toronto? Are there any fun things to do there? Is it a good University? Isn't it a bit too far away from home? After deciding to do it, I found out that all worries had been unnecessary.
Even though Toronto isn't very well known as a travelling destination, which is odd, as it's definitely a city I would recommend. It's a very diverse city, every culture you can think of can be found here, in its own neighbourhood or street, so any food you can think of can be found. Toronto is also a city that feels way smaller then it is, due to the large amount of parks, and the mix of modern buildings with old houses. This is very clear on the campus of the University of Toronto, where buildings from the 1800s stand next to new buildings. However green the city is, it is incomparable to the nature Canada has to offer, as a matter of fact, it has so much nature parks to offer that you are just unable to see all of it in a short time span, definitely if you also need to do some work.
The start of a long cooperation
That work is my internship at the University of Toronto, in the electronics and computer engineering faculty. In this faculty I work in a group of graduate students from a power electronics group, who together with some mechanical engineering students, support an automotive start-up, by doing research projects around the components for this vehicle. In the beginning it was a bit weird for me, an Automotive Technology student specializing in Control Systems, to work in a power electronics group, as the specialisms are quite far separated. After a while, however, I found out that it is not a problem, but benefit, as I can help them with my knowledge of automotive and control systems, while they can give me a more thorough insight into hardware, a thing which I normally just assume to be right. This exchange of information leads to a nice win-win situation, which hopefully is the start of a long cooperation between both universities.