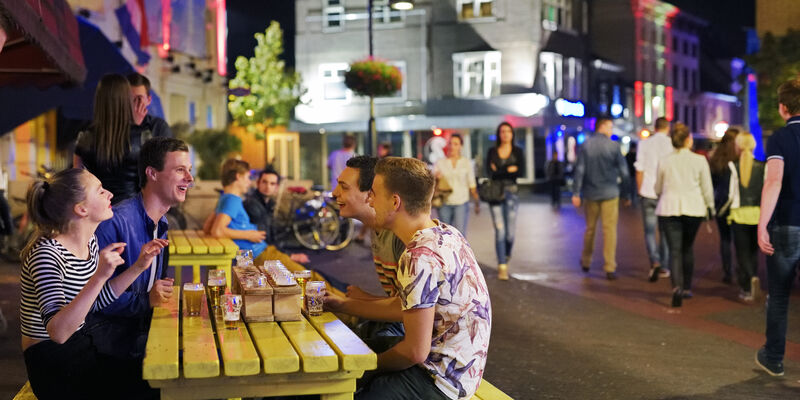 How can I survive Eindhoven's nightlife?
So you have survived Introduction Week and now you are now studying in Eindhoven. Of course, you have heard from everyone you know who has completed a degree that your student years are the best time of your life. But how are you going to make sure that you get the most out of them? On these pages we take a closer look at Eindhoven's nightlife, because there is more to do in the city than sinking liters of beer and studying!
16.30-19.00 hrs: from lectures to the bar
Of course, there is more than enough to occupy you in and around the university. Some of the campus bars open even before the last lectures have finished. Every bar is linked to a study association. It is worth knowing that most bars are open only on Thursday afternoons. But if you really find yourself at a loose end, the Walhalla on the sixth floor in Flux is always an option. Study association Thor's bar (Electrical Engineering) is open all week from 16.30 to 19.00 hrs and has enough going for it with cheap beer and a good view to make your afternoon swing. You'll find the largest selection of specialty beers next door to the Walhalla in the Salon, frequented by study association Van der Waals. Take note: this is open only on Thursdays and you'll need a physics friend if you want to get in as a guest!
Be sure to keep a special eye out for events in your own association's bar. For example, there is often plenty of free beer available at the drinks parties held to celebrate the new board's appointment, and at the Founders Day drinks parties. The Pullûh Vullûh drinks parties (The Villa) and pub crawls are also worth attending.
A trip to the Zien cinema in the city center makes a fun change. This is a service cinema so while you are watching the film you can call to be served with beer and snacks. You can also subscribe to the newsletter giving Last Show offers. Often tickets are available at only 2.50 euros for screenings at odd times in the afternoon. Leaving you to spend the money you've saved on a few extra beers and nachos during the film.
19.00-22.00 hrs: evening meal and drinks afterwards
Having downed some drinks on the university campus, it is time to line your stomach. While it's cheaper to eat in or get a take-away fries topped with doner kebab meat and cheese (in Dutch patatje kapsalon) and tank up at home, we'd like to list a couple of interesting eating-out options.
To get straight to the point: in Eindhoven we have an unparalleled diversity of fast food: McDonald's, KFC, Burger King and even a Taco Bell. And it is worth noting: they also serve beer at the Taco Bell.
If something a little more upmarket is what you're looking for, but still affordable and friendly, there are plenty of other great options. Student favorites are Burgers, Het Ketelhuis, De Stadsbrouwerij, and Van Moll.
22.00-02.00 hrs: sinking liters of beer
If you still haven't had your fill, then get yourself back to Stratumseind. The choice is huge, but be aware that every bar has its own personality and public. See the next page for a detailed review of who you can find where, and the various distinctive features of these pubs. The downtown pubs are open until 2 a.m.
02.00 hrs-….: for the drinking heavyweights
After 2 a.m. you've outlasted most pubs in Eindhoven. But there are a few exceptions: the most obvious option is De Ballenbak. The bar at the society of the Eindhoven Student Corps is open on Thursdays from 23.00 to 05.00 hrs. If you plan to make it later than 2 a.m. you must make sure you arrive before 01.45 hrs.
Another creative solution to bring the evening to a close is Holland Casino. As long as you aren't wearing swimwear and flip-flops, or you appear too drunk, you can while away the hours here until 03.00 hrs. It's fun to have a go at gambling (in moderation), but it is also really entertaining to see how every five minutes the Asian visitors scream something you can't understand and swap 500 euros for chips with the croupier. Be on your guard at the blackjack table, things move swiftly there.
08:00-13:00 hrs: the hangover will hit later
You won't be feeling as fresh as a daisy after a good night out during the week. So it makes sense to finish with a couple of heavy-duty anti-hangover tips.
-You need to give your body the chance to recover, so sleep as much as you can!
-Sex is a good cure for a hangover, so it's said. Whether this works as a good opening line we can't say.
-Alcohol dehydrates you, so make sure that while you're on the town you drink enough water. Drink a good glass of water before you go to bed, or at least when you wake up.
-Take a shower or bath, or even better, go to the sauna! Cleanse yourself of the sweat and any party odors, so that you feel refreshed.
-A good breakfast is very important for quickly getting over a hangover. Eggs are an important ingredient because they break down acetaldehyde (found in alcohol). Feeling queasy? Then drink a little cola. Tried and tested recipes when it comes to hangovers are a big fried egg and ham sandwich with mature cheese and an onion, ham and mushroom omelet.