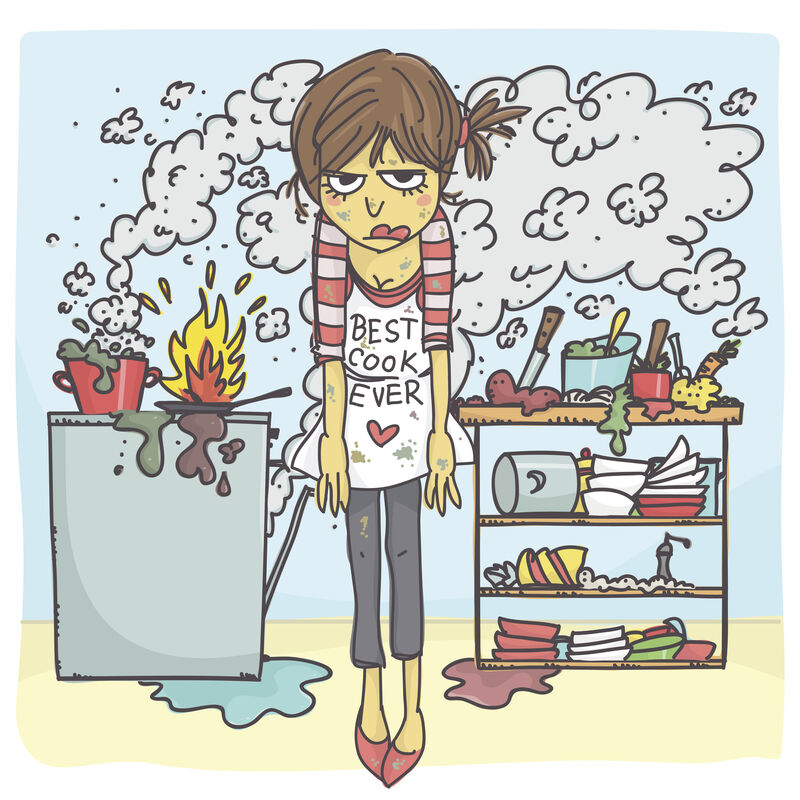 How can I survive a cooking crisis?
Whether you have just moved away from home to start your study program or have already been living independently for four years, the same applies: thinking up and preparing a tasty, healthy meal every day often involves a good deal of putting things off. It is so easy to reach for the trusted ready-to-eat pizza, pasta or fries. But things can be different! Just keep calm and get cooking.
#1 Monday
Wholegrain pasta with pesto
Cook the pasta according to the instruction on the packaging. Cook the raw ham without adding oil in the pan. After three minutes add the spinach and chopped red pepper and cook everything together over a hot flame for two minutes. Mix in the pesto and nuts, and it's ready.
Tip! Replace the wholegrain pasta with corn pasta for a gluten-free meal.
#2 Tuesday
Lunch salad & cauliflower pizza
Got some of Monday's pasta left over? Take it with you for today's lunch! No microwave oven needed: it tastes good cold too. Have fun this evening taking a grater to the cauliflower and cheese to make your own cauliflower pizza base. Google has lots of recipes. Garnish the healthy base with your favorite toppings and simply bake in the oven!
#3 Wednesday
Sweet potato fries (with salad)
No family of the well-known potato, but very healthy: the sweet potato. Peel it, cut it in strips 0.5 cm by 0.5 cm, wash the fries and dab them dry in a clean tea towel. Sprinkle with olive oil, paprika power and salt, and bake them in the oven at 200 degrees for 25 minutes. In the meantime you can enjoy a spot of Netflix.

Recycle! Toppings left over from your pizza? They'll make a nice salad with the fries.
#4 Thursday
Banana pancakes
Bananas are an ideal energy booster for between lectures, and in the evening you can mash them up finely, beat in an egg, peanut butter and some cinnamon and you've got pancake batter. Multifunctional things, those bananas.
#5 Friday
Freestyle
It's nearly the weekend, and you've had a busy week. So you won't want to spend long in the kitchen. So just do your own thing. Set up a fun dinner date and let your creativity have free rein. Throw, for example, the red peppers and zucchinis you've still got left into a deep pan and start turning them into soup. Fry up some sliced onion, add some vegetables, add a stock cube, now give it a whirr with the staff mixer. And you're done. Not that cheating and calling Thuisbezorgd.nl once in a while isn't also an option. Everything in moderation. :-)