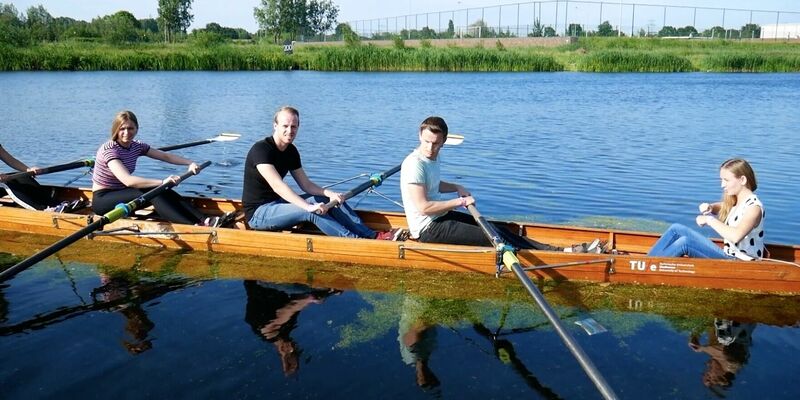 Sports

,

Student

25/05/2018
HDR: challenge for organizers and coxes
The Houses & Societies Race (Huizen & Disputenrace) run by Thêta; a chance for students to give rowing a go, for the organizers a logistical challenge. In one-on-one races, fifty teams established who was the fastest over 250 meters. Two eights received such rousing encouragement from the public that in their enthusiasm they bumped into each other. The damage can be repaired.
It is a way to see what rowing is like and to get to know your housemates better. On the Eindhoven Canal on Wednesday the sixth edition of the Houses & Societies Race was held, organized by women's society Animo and E.S.R. Thêta. Student houses, societies, committees and groups of friends took to the water in fours and eights to do battle.
The least experienced participants Thêta puts in a four. Thêta members who are taking part with their house or society are allowed in an eight. It can happen that six or eight boats are racing at the same time on the Eindhoven Canal.
Despite their experience and the efforts of both coxes, two eights still managed to collide. Vice chair Marloes de Winter thinks the public's huge enthusiasm encouraged the rowers so much that the coxes couldn't keep up. "It is a shame but not really a problem. The repairs can easily be made."
For the rest, she is very satisfied with the event. "It was fabulous weather, there were more spectators than ever, roughly 450 students in total, and the party was excellent." Team Excited managed to row the fastest 250 meters and won the Houses & Societies Race 2018.
Video reporter Collin Wagenmakers got a lift in a boat and produced the following report.