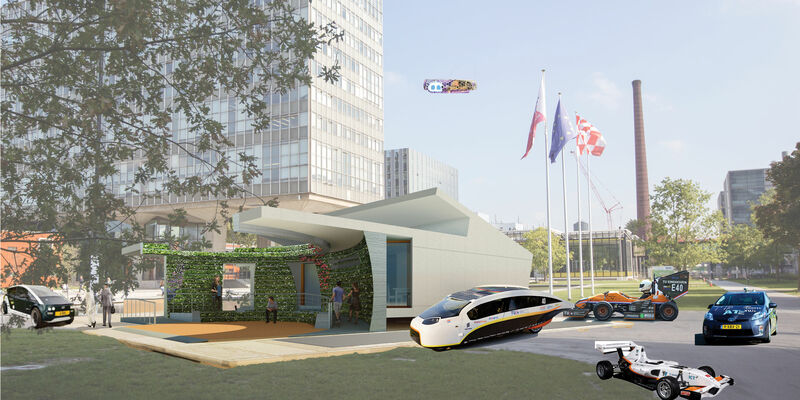 Student

,

Campus

29/05/2018
TU/e puts itself on the map during Dutch Technology Week
Dutch Technology Week would not be the same without activities by and at TU/e. Accordingly, next week a TEDx Pitch Event will take place on the campus, the Eindhoven Student Symposium will be held, students will present their projects during Night of the Nerds, and there will be the annual Quiz Night XL. Last but not least, visitors can browse around the student teams and check out LINQ - the sustainable home made by team VIRTUe.
Technology enthusiasts can indulge their passion June 4 through 9, when Dutch Technology Week will be held once again in Eindhoven. TU/e is kicking off the event on Tuesday June 5 at 15.00 hrs in Luna with the TU/e TEDx Pitch Event, in which ten participants each have six minutes to talk about a subject of their choice. Their pitches will range from the future of the Internet of Things to explaining the circular car produced by Team Ecomotive. This is the first time this event, a selection round for the TEDx talks in November, is being held.
Also being held on Tuesday is the Night of the Nerds, during which young people aged between 14 and 19 will be able to see what they can do with the latest technological gadgets. Student team URE will be present with their latest car and visitors, wearing a VR headset, can experience the sensation of racing in that car. In addition, four projects by students of Industrial Design will be on show in the 'Klokgebouw'.
Quiz Night XL
On Wednesday June 6 the Eindhoven Student Symposium offers companies and students the chance to get acquainted. The quizzers can test their technological and scientific knowledge on Thursday June 7 in the Klokgebouw during the annual Quiz Night XL. Tables will be reserved for TU/e students and employees (if you still want to get a (free) seat, reserve it here).
On Friday June 8 and Saturday June 9 the campus becomes the setting for the student teams so numerous at TU/e. For visitors on the Friday, the KOE field offers, among other things, the chance to take a peek at LINQ (the sustainable home by team VIRTUe) and see the drone produced by BlueJay and solar car Stella Vie at close quarters. These same teams are also in action on the Saturday, as the High Tech Discovery Route comes to the TU/e campus for the first time. Finally, on June 9, there is the Talent Forum in the Auditorium, organized by the Association of Chinese Scientists and Engineers in the Netherlands (VCWI).
Tip for students: for other interesting activities, select student in the program.