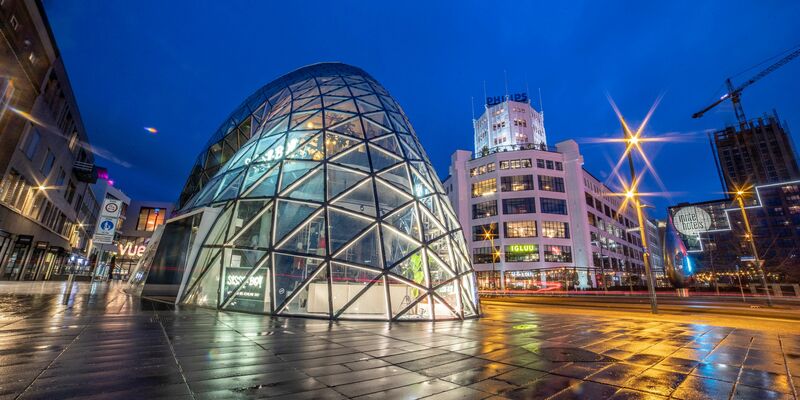 The University

,

Student

20/05/2019
DTW | Where to go during the Dutch Technology Week?
Today the Dutch Technology Week (DTW) has started. During a period of six days, visitors will see, experience and discuss fascinating technology in the Brainport region, with Eindhoven at the center. Scientists and students from TU/e are closely involved with this ode to technology.
The DTW's overarching goal is to make people enthusiastic about technology. It all started in Eindhoven some years ago, but nowadays activities spread around the country in cities like Tilburg, Breda, Delft and Nijmegen. A brief overview of podia with which TU/e students, alumni, or staff members are involved. Entry is free, unless stated otherwise.
1
Museum through the city: Students of Industrial Design present interactive installations, together with Dutch designers Mies Loogman, Jelle Mastenbroek and Daniël de Bruin. The installation Bumper Ballet from Dropstuff.nl will premiere. Bumper Ballet is a small car track for bumper cars that appears to be a regular fairground attraction at first sight, until the computer takes over…
20-25 May, every day from 12.00 hrs, Strijp-S.
2
The power of virtual reality in the healthcare sector: "I'm not afraid to predict that within five to ten years, every hospital will apply VR," Jason van Eunen says. He and Freek Teunen started MedKitVR together, a TU/e startup. The company created a VR platform that offers hospitals the opportunity to use all kinds of different possibilities and applications using one headset and one system. Do you want to find out how to fully exploit the possibilities of VR in healthcare?
20 May, De Effenaar, 13.30-16.30 hrs, sign up here.
3
The Night of the Nerds: Experience innovation, technology and creativity during a hundred different activities. Night of the Nerds is the event where nerds with a passion for technology present the most recent developments in the fields of innovation, technology, and creativity.
21 May, 12.00-21.00 hrs, Klokgebouw Eindhoven, order tickets, 12.50 euros, here.
4
Hyperspace into the future: Is the quickly advancing development in the world of Virtual Reality a blessing or a burden? Where will we all be in five years? A panel of experts will discuss these questions. Visitors can discover several VR and AR applications before the discussion starts.
21 May, 19.00-22.00 hrs, De Effenaar, sign up here.
5
Energy Now Congress: TU/e's Team Energy brings researchers, students and professionals together to inspire and to inform people about the current situation in the world of energy. What role can the energy network play in the transition towards a sustainable future? What should we do with 'smart grids,' energy storage, and local energy exchange? With workshops, plenary session, panel discussion, and networking drink.
22 May, 9.00-18.00 hrs, Evoluon, 10 euros, sign up here.
6
International Students Tech Safari: Discover companies such as Philips, Teledyne DALSA, High TechXL, Signify, Nextview, TomTom, NXP, Intel and Usono at the High Tech Campus Eindhoven. The event is co-organized by international student assocation Cosmos with the purpose of introducing (international) students to the possibilities of starting a project, internship, or career.
31 May, 15.00-19.00 hrs, High Tech Campus Eindhoven, sign up here.
7
Quiz Night XL: A humorous quiz, completely in English so that everyone can participate. Every facet of science and technology will be covered, supported by videos and images. Form a team of five people and accept the challenge together with over 1200 participants. Presenters Julinka van Keulen and TU/e Distinguished University Professor Maarten Steinbuch will lead the way.
23 May, entrance between 17.30 and 19.30 hrs, the quiz takes place between 19.45 and 23.30, Klokgebouw Eindhoven, 15 euros, sign up here.
8
Sioux Mechatronics Trophy: Robots from different student teams will cover a race track and switch an empty battery completely autonomously. That means no loss of valuable time hooked to a charger. Preliminary rounds will start at 18.00 hrs, followed by the finals between 20.00 and 21.00 hrs.
23 May, 16.00-21.30 hrs, Ketelhuisplein, Strijp-S.
9
You can visit several student teams of the TU/e at the DTW. You can find them in the following locations:
Of course, this is only a small selection of everything the DTW has to offer. Several other events, such as symposia, lectures, presentations and meetings with business companies, will take place between today and Saturday as well. For the complete program click here.
---
This week Cursor will be visiting a different DTW event or location each day. So keep an eye on our website for more updates!