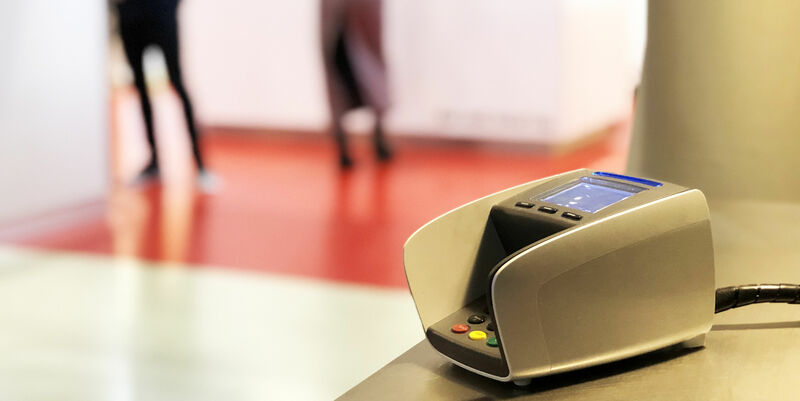 Debit card payments only option left in TU/e canteens and at dispensers
As of January the TU/e canteens, which from the New Year will be run by the new campus caterer VITAM, will accept only payment by debit card. Before too long all the large dispensers of hot beverages and candy on campus will also be adapted, after which cashless will be the only method of payment here too. The Executive Board recently gave these changes the green light.
Cash in circulation on your campus; these days it's something TU/e shouldn't really want to have, according to head of operational services Monique Kuyck. It creates scope for product dispensers to be broken into "a number of times a year" (she'd rather not give any exact figures) and means employees of cash-in-transit companies have to cross the company carrying money. "It inevitably exposes you to risks."
Not that the sums of money involved are astronomically high, says Kuyck - in fact, the number of cash payments on campus has been declining for years. Last year in the TU/e canteens only 20 percent of all customers paid in cash; at the coffee and candy dispensers that figure is as low as 2 percent. And, incidentally, various other Dutch universities, such as in Wageningen and Tilburg, have been cashless for years, says Kuyck.
In a natural way
Good reason for TU/e to start moving towards a completely cashless campus, as it did three years ago with a policy document containing the advice to 'strive for a cashless campus in a natural way' - mainly by making choices at strategic moments that promote this transition, for example when calling for bids for tenders.
The decision to hire TU/e's new campus caterer VITAM - and subsequent conversations with them - proved just such a moment. Kuyck: "This was something they requested because there's plenty that needs arranging for cash payments, from money transport to having sufficient cash in the cash registers at every location. This was an ideal opportunity to do various things differently and in the right way from the outset in January." It should be mentioned that in the canteens it will soon be possible to pay with a regular bank debit card but not with a credit card.
Similarly in grand café De Zwarte Doos and the University Club, which from January will come under the care of new caterer Vermaat, 'plastic' will soon be the only method of payment. "As the amounts involved there are often that bit higher, people already tend to pay by debit card or on account there anyway."As an exception to the rule, at these locations it will also be possible to settle the bill with a credit card, namely MasterCard or Visa.
The large freestanding candy and beverage dispensers on campus, which still contain a unit for cash payments, will be converted at a later stage, according to Kuyck, in consultation with 'operator' Maas. Employees mostly use their campus card at these machines. The costs of offering these payment options, including the conversion of these product dispensers, are the responsibility of the above-mentioned companies.
Kuyck realizes that a small group within the TU/e community may well be less happy initially with the switch to cashless, in particular in the canteens. "You always have a group that needs time to adjust to the transition. But they will eventually find their way back to the canteens and product dispensers."
Internationals without a bank account
Student fraction Groep-één, however, spoke out on Monday, during the meeting of the University Council, to express its concerns about cashless payment in relation to internationals - especially exchange students who are usually here for only a few months and often do not have a Dutch bank account. "Can Erasmus students pay even though they have no debit card that works here?" Tanja Ypma of the Executive Board wanted to know.
Board member Jo van Ham recognized that, as a result of the switch to 'cashless', some internationals may well find themselves having to do some extra legwork to ensure they can make transactions in, say the canteens. He pointed out the support available from the TU/e services ESA and DPO, which can help students and employees with opening a bank account. Hugo Bezombes (Groep-één): "But what if students are only staying a short time?" Van Ham: "They'll just have to open a bank account."
Staff faction PUR had enquired in earlier written questions what should be done if a technical failure occurs. According to Kuyck, these can never be entirely ruled out - although, she says, everything is being done, by both the university and the partners mentioned, to prevent them. Should a failure nevertheless occur then, she says, "an appropriate solution" will be sought- and, as a last resort, a canteen, say, may have to close temporarily.