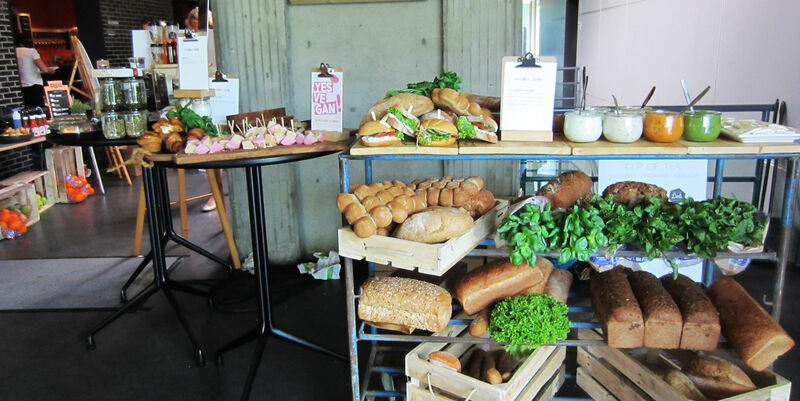 The University

,

Campus

25/06/2018
After eight years with Eurest, TU/e teams up with two new caterers
After eight years TU/e is bidding farewell to campus caterer Eurest. As of January 1st the on-campus catering will be managed by two new providers, Vitam and Vermaat. Vitam will run the regular catering; Vermaat will take over the catering outlets - grand café De Zwarte Doos and the University Club.
It was a close run thing, particularly for three of the four catering candidates who presented themselves to a sizeable team of testers from the TU/e community at the two tasting sessions held in mid-May. All were eventually assessed on several aspects, from their business case and banqueting to the customer appreciation shown by the taste testers.
Once all the points had been counted, Vitam, whose current customers include Rotterdam's Erasmus University and the University of Applied Sciences Utrecht, had the highest score. "All in all their presentation was a little better," confirms Monique Kuyck, head of TU/e's Operational Services. Moreover, as she says, this young caterer seems likely to strike a good balance for TU/e when it comes to 'innovative versus familiar'.
Tempting people to choose a responsible and active lifestyle - that is Vitam's vision. This finds its expression in plenty of fresh vegetables, fruit, soups and salads, for example, "but with room for a guilty pleasure like an ordinary croquette," says Kuyck. Together with, as she sums it up, an emphasis on seasonal produce, cooperation with small regional suppliers and businesses, and an interest in fair trade. "But that was pretty much a requirement in our call for tenders, so it's really in the details."
A new catering partner - a nervous moment whoever wins, realizes Kuyck. "No doubt the criticism voiced by some of the campus community will be: 'We'll just have to experience it once they get here'. Over time Eurest became thoroughly familiar with TU/e; a new caterer will have to get to know the campus from scratch. That means Vitam faces a challenge - certainly given all the changes, mostly good ones, Eurest introduced in recent years."
Subway and Starbucks
These changes involved, for example, introducing the Subway and Starbucks brands on the campus. Whether they will still be here at the start of 2019 remains to be seen; in contrast to Eurest, Vitam has no contract with either party. Kuyck: "Subway is keen to stay on the campus and I'll let Vitam know that. But if they feel Subway doesn't fit in their vision, we shall have to respect their decision."
Even though the well-known American coffee chain is now doing "better and better" in Vertigo, according to Kuyck, she is not counting on Starbucks making a re-start under Vitam: "In principle, at two locations, including Atlas, they will establish their own quality coffee corners."
Firm agreements
In early July TU/e will have more talks with the new caterers about the planning for the coming six months and how their proposals can be turned into practice. Some canteens, says Kuyck, will definitely undergo a considerable transformation, though all the while the 'basic package' must remain close at hand, also for Vitam.
In December the various catering locations will be remodeled, with a view to re-opening as soon as possible in the new year. The canteens in the Paviljoen, Laplace building and Traverse will close; the occupants of these buildings will soon be moving to Atlas.
Additionally, agreements must be made in the short term about the catering staff currently still working for Eurest. "Their collective employment agreement requires that they are offered jobs by the new caterers, and these may differ to some extent from their position with their current employer." Most people will simply transfer to Vitam and Vermaat, expects Kuyck.
As of January 1st Vermaat will be taking over the catering outlets on campus, namely De Zwarte Doos and the University Club (which will soon move back to Atlas). According to Kuyck, within this tender process, Vermaat stood "head and shoulders" above the rest. For, among other things, quality, flexibility and sustainability.
This outcome means that for the first time in a long while TU/e has to deal with two caterers on its campus "who are in fact in competition. But they can also reinforce each other, and naturally that's we are hoping for and counting on."
Turnover of almost five million
Kuyck has every confidence in the new caterers who have been chosen, but also appears realistic. "Our catering provision deals daily with some fifteen thousand potential customers and a turnover of almost five million a year. Those aren't small numbers. However much we try to involve everyone, the idea that you can do things perfectly for all these fifteen thousand people is simply utopian."