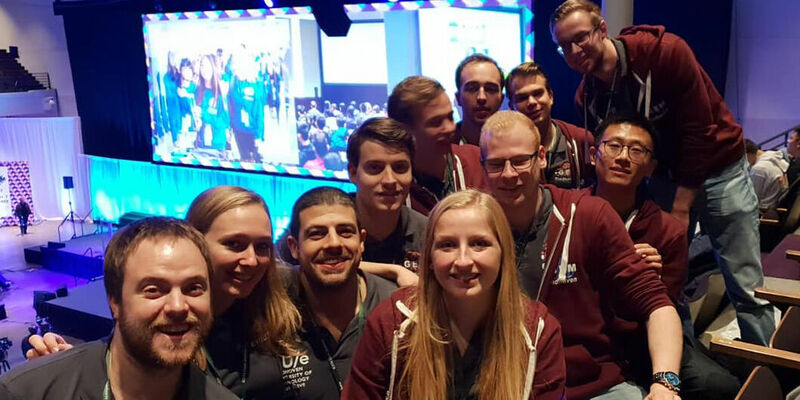 Research

,

Student

30/10/2018
iGEM team successful with prison gel
This past weekend in Boston, the Eindhoven iGEM team came away with a gold medal and nominations in the categories Best Basic Part and Best Composite Part for its project 'Gelcatraz'. To publicize Gelcatraz - in which the students demonstrated how you can keep live bacteria trapped in a gel - one of the team members dressed up as a villain at the Giant Jamboree 2018.
The 'villain' drew a lot of attention, tells team member Sander Keij. "We thought the stunt was a great way to illustrate what our project's about. We trap bacteria in a gel, but they remain alive and produce proteins. Likewise, the villain could walk around and talk to people, but was not allowed to leave the building."
Whether it was due to the playful idea of dressing up, we'll never know, but at any rate the project presentation given by team members Laura van Hazendonk and Yahav Rave was well attended, Keij tells us. "The auditorium was ninety percent full and all our Dutch fans were able to watch us live on Facebook. Afterwards the jury members even gathered round our poster, eager to ask questions."
Article continues below picture.
At the awards ceremony Sunday, Gelcatraz proved good for a good medal - an honor accorded to a considerable percentage of participants every year, it must be said. According to Keij, the team is most proud of its nominations in the categories Best Basic Part and Best Composite Part. "These are the BioBricks, as they are called, that we submitted." These BioBricks, actually pieces of DNA code, will be added to a database that later generations of iGEM participants can draw on.
Alcatraz
The idea behind Gelcatraz (with a nod to the infamous prison Alcatraz) is to produce a 'living' material, in which genetically modified bacteria (in this case E. coli) fulfill certain - medical - functions. The specific example that the Eindhoven iGEM team had in mind was a special sticking plaster for, say, burns or bedsores.
It is important that the living bacteria have access to nutrients, so they can produce proteins that combat dangerous bacteria such as Staphylococcus. On the other hand, the genetically modified bacteria must not escape from the sticking plaster. The Eindhoven iGEM team has spent the past eight months designing a hydrogel that meets these requirements.
International Genetically Engineered Machine (iGEM) is a competition for (student) teams, in which techniques taken from synthetic biology are used to solve a wide range of problems. The final, known as the Giant Jamboree, is held every year in Boston.