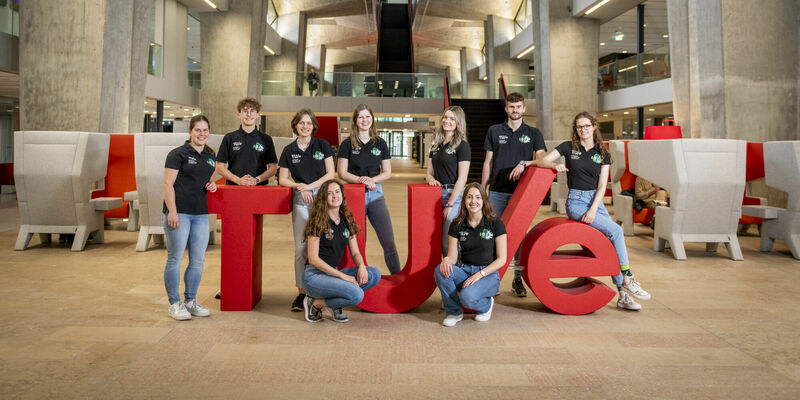 Research

,

Student

07/09/2022
iGEM team wants to treat vasculitis with smart cells
Patients who suffer from chronic inflammation of the blood vessels (vasculitis) are at risk of tissue and organ damage due to a reduced oxygen supply. In search of a possible treatment, TU/e's current iGEM team tries to make special cells that can detect inflammatory activity in the patient's body and secrete medication locally.
iGEM is an international student competition during which participants try to solve a wide variety of problems using technologies from the field of synthetic biology. The Eindhoven team, which consists of eight Biomedical Engineering students and one Industrial Design student, has been busy preparing for October's closing 'Grand Jamboree' since the beginning of the year. That event will take place – corona volente – in Paris this year, for the first time ever after fifteen editions in Boston, USA, and two digital meetings during the Covid-19 pandemic.
But first, iGEM will organize two events of its own, team member Rian Driedijk says. "On September 14, we expect to welcome over a hundred high school students from the region to the very first Challenge Day, an event aimed at introducing the next generation of researchers to the field of synthetic biology." During that day, the participants will work on an ultra-short iGEM project, she explains. "They need to come up with a project and design a poster about that project. They will also make an artwork with fluorescent bacteria, and they will be given a tour of campus."
Low Countries
That event is followed by the Mini Jamboree Benelux for iGEM teams across the Benelux, which will take place on Tuesday 18 October. "That's sort of a final rehearsal for the Grand Jamboree," Driedijk says. The eight participating teams from the Low Countries will defend their projects in the Auditorium in front of a jury of experts and get to compete for awards in the Best Project Design and Best Project Implementation categories. "Project Design is about the general concept and feasibility. The Best Project Implementation category on the other hand focuses primarily on a project's potential social impact, which is why the jury also considers whether a project is well thought out and socially responsible."
The Mini Jamboree Benelux won't be a private party, the second-year Biomedical Engineering student stresses. "There will be a networking market, freely accessible to the public, during which the participating teams as well as iGEM's partners and a number of research groups are present. And students can earn a MyFuture credit by attending one of the pitch sessions." Students are required to register for that credit.
Text continues below the picture
Meanwhile, the team is working hard in the lab to demonstrate that it is indeed possible to make cells that can detect inflammations in blood vessels and administer anti-inflammatory cytokine IL-10 there. For that purpose, the cells are equipped with a so-called receptor, which acts as a binder for a certain type of antibody that's produced in the area around the inflammation. Once the antibody binds to the cell, it turns on the production of cytokine IL-10 and subsequently secretes it locally.
Ideally, one single injection of these modified cells into a patient's bloodstream would be enough to reduce all inflammatory symptoms, Driedijk says. And that would lead to significant health gains; not just for people with vasculitis, but perhaps also for patients who suffer from other autoimmune diseases, because the Eindhoven iGEM team believes that their technology can be used to treat these patients too.
Success
That sounds great, but it obviously remains to be seen whether or not this will one day become a reality. For now, the team managed to have modified cells produce IL-10, and it is now in the process of trying to get the right antibodies to activate the receptor. "Our next step is to combine those two elements in one cell. It's too early to say whether or not we'll manage that by the end of October."
The iGEM team did already achieve some success before the summer break though, when it won the audience award during the TU/e Contest. You can watch the short pitch with which they won that award below.