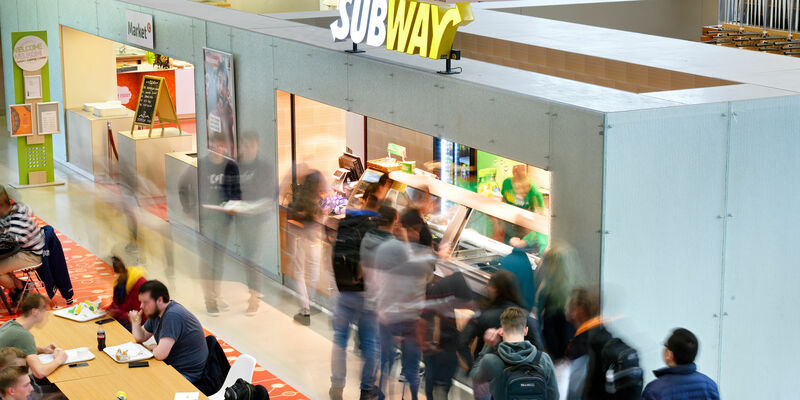 The University

,

Campus

23/10/2018
VITAM is not new to Dutch higher education; the company and campus caterer is already doing business on the campus of Erasmus University Rotterdam, at Utrecht University of Applied Sciences and elsewhere. But TU/e is VITAM's first university of technology and its first higher education institution in Brabant - with its own unique and varied population to take into consideration, says Mark Hufken, operational manager campus locations.
In general he has also noticed some differences in demand between universities of applied sciences and universities. "Health is an important theme, especially for university students, perhaps even more so than volume and price." One possible explanation for this, he believes, is their age: "On average university students are a little older than students at the universities of applied sciences and they are in a slightly different phase of life." Similarly, sustainability and questions like 'Where does my food actually come from?' are slightly hotter topics at universities, Hufken observes.
Good, better, best
Health and sustainability were two of the themes in evidence in VITAM's presentations to TU/e earlier this year. As was, and with slighter stronger emphasis, the company's 'good, better, best' principle. "There must be something available for every wallet." And, explains Hufken, these were principles that could not be reconciled with the Subway concept. He talks about a difficult choice, "because it is a very popular concept at TU/e and in that sense you don't want to cause offence. But Subway is simply too out of step with the things we stand for, like our principles relating to health and sustainability".
Even the 'good, better, best' principle mentioned above, with something to suit every budget, is difficult to introduce at Subway, he says: "It's simply a matter of keeping to the agreed prices. Altogether we'd end up clashing with the story we pitched to TU/e and that we want to introduce across the campus."
But Hufken has strong hopes that students in particular will continue to find their way to Auditorium. Subway's place is being taken by Grilzz: a VITAM concept with "new style toasted sandwiches", available in all sorts of varieties. According to Hufken, the concept is a definite favorite among students on the other campuses where the company already provides the catering.
Starbucks
As far as Starbucks is concerned, that other American multinational, VITAM simply had no choice. Even if the caterer had wanted to include the coffee formula in its total offering, it would not have been possible, simply because Starbucks grants a license to only a limited number of caterers. Eurest has that license, its successor does not. "So it wasn't an issue we had to consider."
Something VITAM has thought carefully about for this location, on the other hand, is a suitable successor. Coming soon to floor 1 of Vertigo will be a 'Bakery Café', where it is all about a good cup of coffee (long black, cappuccino, espresso or latte macchiato), but where customers can also come to get, say, "a fresh breakfast or tasty sandwich made on the spot."
According to Hufken, the catering concepts for each TU/e location have now been settled and the plans are currently being worked out in detail. All the catering staff still employed by Eurest will soon transfer to VITAM. Although they may be required to work at different locations than before, "we'll be looking at who will get the most out of working at which spots and within which concept," says Hufken. It is clear, however, that the current Subway ladies in the Auditorium will stay on and will soon be running the above-mentioned Grilzz.